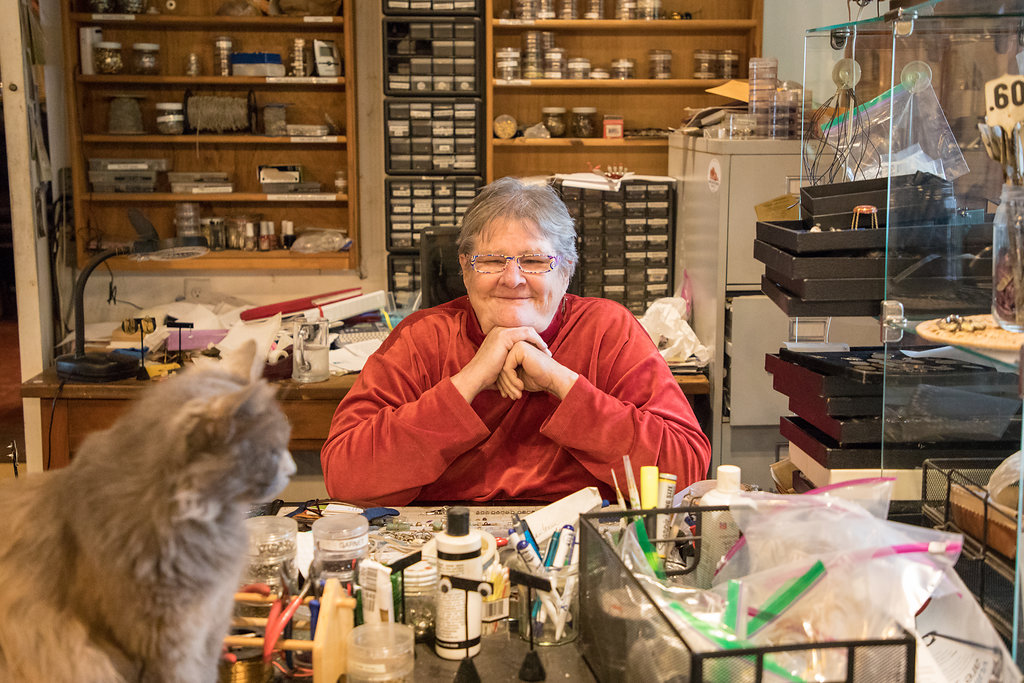 Carol Tantau and her eclectic jewelry and gift shop, Just Tantau, were early pioneers of Venice's Abbot Kinney Boulevard, having opened up shop in 1982. In fact, Carol was one of the people who helped change the street's name to Abbot Kinney. But in January 2014, yearning for something new, she picked up, headed East and moved Just Tantau to Adams Boulevard.
"To me, this area feels like Venice 25 years ago," said Carol. "I'm really optimistic that interesting things are going to happen here."
This optimistic view brought Carol to what was primarily an industrial area, and it's what keeps her focused on growing her business in the section of Adams Boulevard East of Fairfax and West of LaBrea.
Just adjacent to JNJ BBQ & Burgers, Just Tantau is a cozy, home-like space filled with hand-crafted jewelry. Think new and interesting pieces from jewelers and wonderful artists across the country, whom Carol has met over the years, while working in jewelry manufacturing and as the store's proprietor.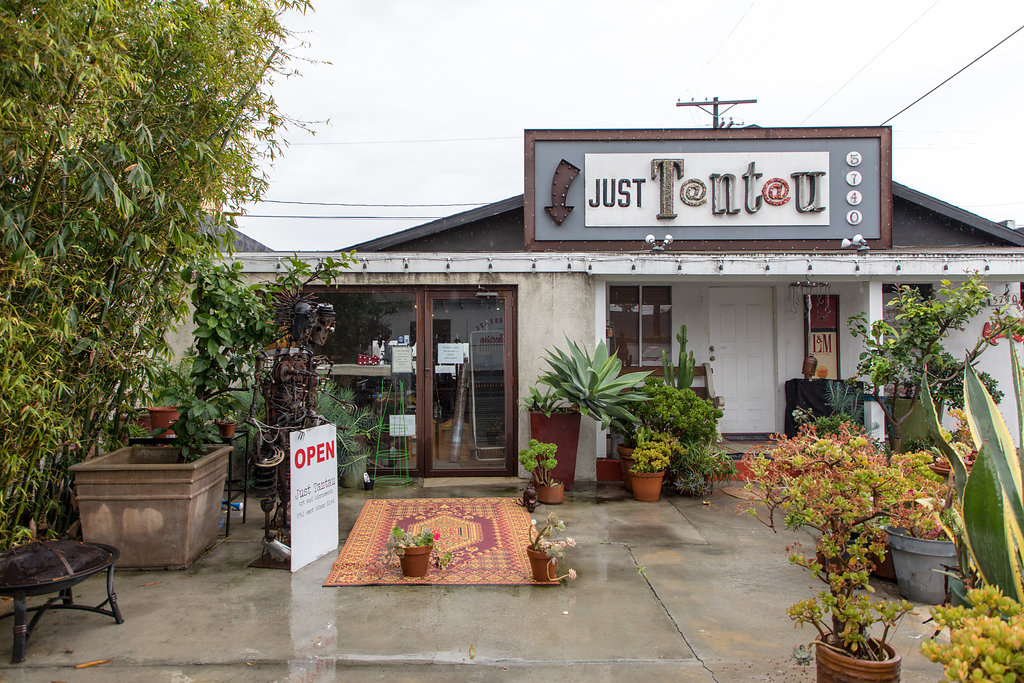 Carol, however, doesn't leave all of the jewelry creation to others. Years ago, she began crafting jewelry out of typewriter keys, including bracelets. Soon her creations were the focus of a 2004 Time Magazine article titled "The Keys to Fashion," which detailed her work. She found herself sourcing typewriter keys on eBay and discovered a passion for making jewelry with repurposed material.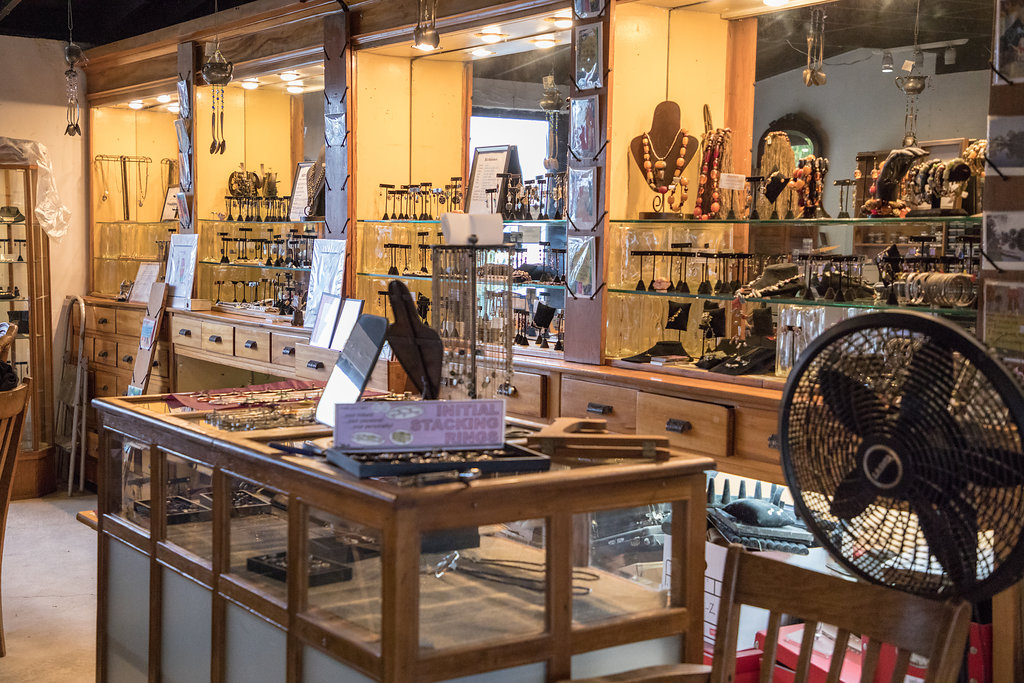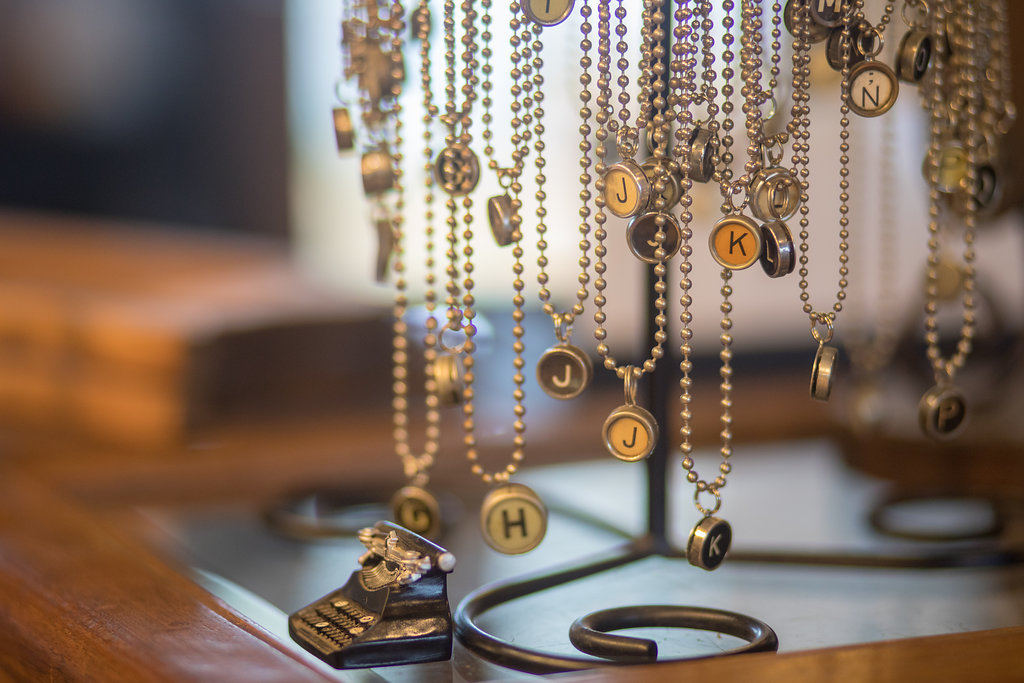 Currently, in the store, you'll find wind chimes formed out of old flatware, jewelry created out of old watch parts, buttons and dice, as well as earrings made out of old fountain pen nibs. Carol finds inspiration everywhere, citing her niece's Instagram and a recent post featuring thimbles as her latest muse.
Eager to invite people in to experience Just Tantau, Carol hosts weekly Sunday afternoon Jewelry Repair Workshops for $15 during regular business hours.
"Everyone has a stash of broken jewelry, and in that stash, there's often the stuff they like the most, or that they have worn the most," said Carol. "I don't necessarily like repairing jewelry myself, but I love helping other people fix their own jewelry."
Recently, a woman brought in huge earrings from the 1970s. She loved the beads, but knew the earrings were just too big to wear. She and Carol repurposed it and made a necklace.
"It's fun to help people bring new life to the pieces they love," she added.
And like her jewelry, Carol is bringing new purpose and a pioneering spirit to Adams Boulevard.
More from Carol Tantau…
-Are you from LA?
I'm originally from Northern California, but I've lived in LA since 1971.
-What do you love about LA? Your neighborhood? 
I love the people in this area. I've had wonderful conversations with the customers who come in. I've really gotten to know the neighbors who are here a lot. It's fun when people realize this is the same store that was in Venice. I have a guestbook for people to sign in and leave an email, so they can keep up with what we're doing.
-Is there a restaurant, business, neighborhood favorite of yours that you would recommend to our readers?
There's a fluff n' fold near Pico and Redondo in the strip mall with the Domino's Pizza where they know me by my name. I love My Two Cents on Pico, and I had a wonderful time at Brownstone Bistro also on Pico. Just down the street from me is Mariscos Marias, which has great seafood. And there's always JNJ BBQ and Burgers. If you enter from the front, it's the burger place. Enter on Spaulding, and it's the BBQ place. I get the bacon cheeseburger or the rib tips.
TO VIEW HOMES FOR SALE NEAR JUST TANTAU IN THE 90016 ZIP CODE, CLICK HERE. COURTESY OF TOM LIND REAL ESTATE.
Just Tantau. www.facebook.com/JustTantau/ 5740 W. Adams Blvd. LA, CA 90016. Phone: 310.392.4646. justtantau@gmail.com Open Thursday through Sunday noon-6pm. Instagram: @just.tantau
Scroll down for more photos by Danielle Murray. Instagram: @andshesnapped