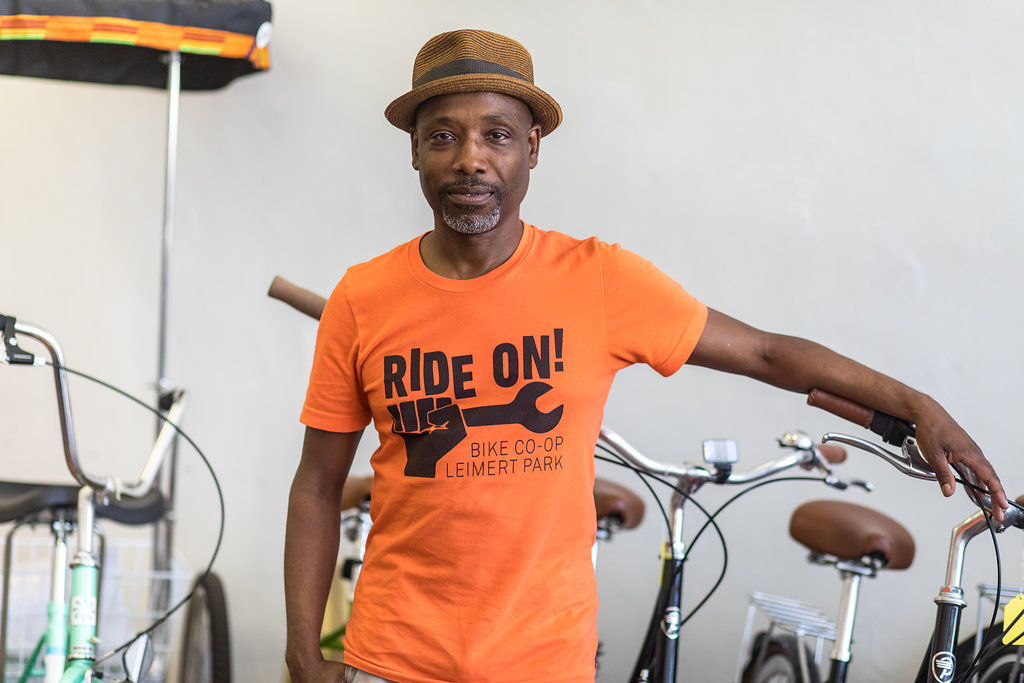 When Adé Neff was getting his masters in urban sustainability, he thought his studies would lead him to Africa or projects focused on water. Instead he found himself right back where he started—in Leimert Park—opening up Ride On! Bike Shop and Co-Op.
"When I was in school, my bike was my only mode of transport," said Neff. "I quickly noticed the lack of infrastructure in South LA. There were no bike lanes. No bike parking. I started bringing up the problems in class."
Neff's discussions in class led to discussions with South LA neighbors. They also brought back memories. As a teen, he had fixed bikes and loved it. So Neff started doing once-a-month bike pop-ups in Leimert Park. He got CicLAvia to come to South LA. He hosted an installation called Street Beats at the intersection of Florence and Crenshaw, which extended sidewalks and slowed down traffic. Soon he was known as the "bike guy" and needed a place to store tools. After befriending the owner of his current space in Leimert Park Village, Ride On! was born and had a home on Degnan Boulevard.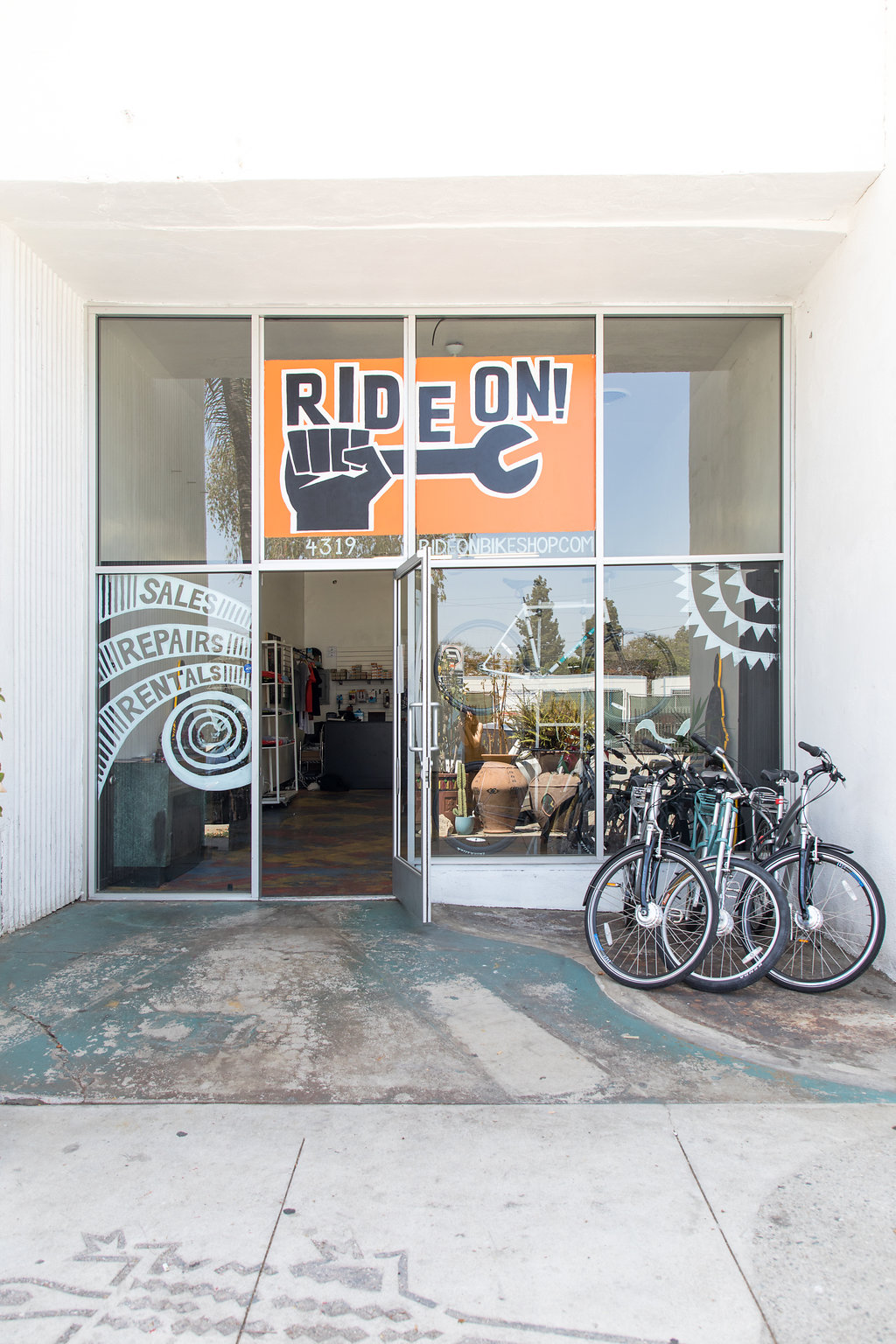 Today, Ride On! exists as a full-service bike shop, offering repairs, sales and rentals. It's a worker-owned Co-Op that provides tools, space and a community environment to facilitate bike repair education. Additionally, Ride On! hosts workshops on bike safety and advocates for bicycle infrastructure equity in South LA.
Neff and his staff host community bike rides at 10am the last Saturday of each month. Recent destinations include Biddy Mason Park and a ride to destinations once listed in The Green Book, a Jim Crow era resource guiding travelers to places friendly to African Americans. Ride On! also sells a wide array of bikes and accessories. Neff encourages the community to come check it out.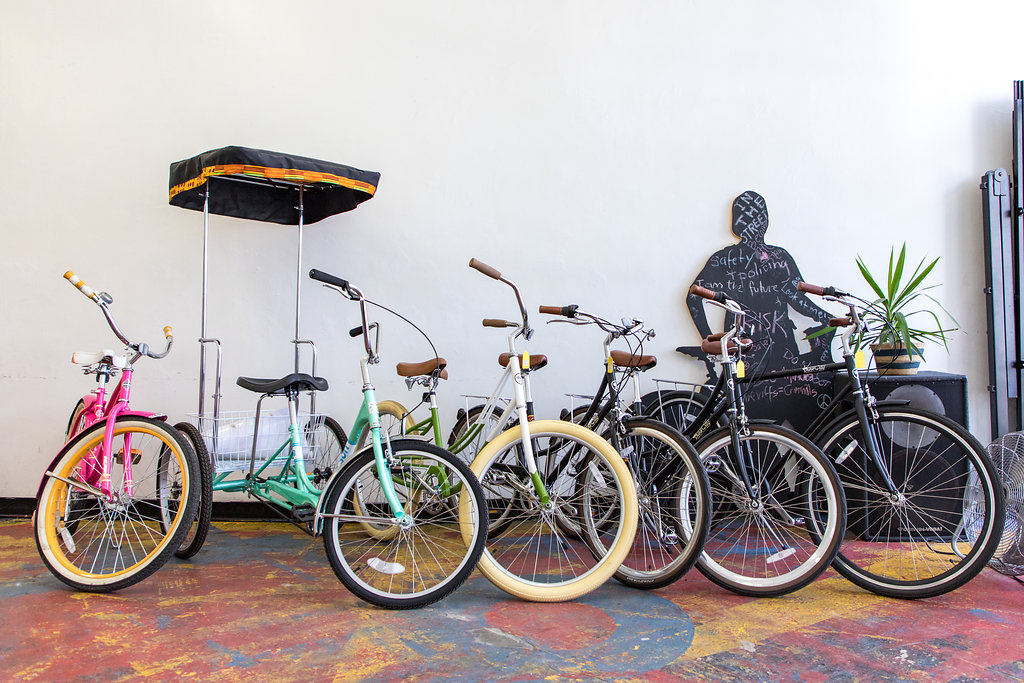 Neff is committed to exposing people to different aspects of cycling, while also fiercely advocating to make the streets safer and more bike friendly for cyclists and pedestrians.
"People in this area are already riding bikes. Some of the oldest cycling groups in LA have existed in these communities for 30 years, but we need to address the safety issues," said Neff.
While he realizes he has to keep fighting, he sees himself as advocate for this community. In the meantime, he is happily building a place for people to enjoy bikes, learn about bikes, and just ride on.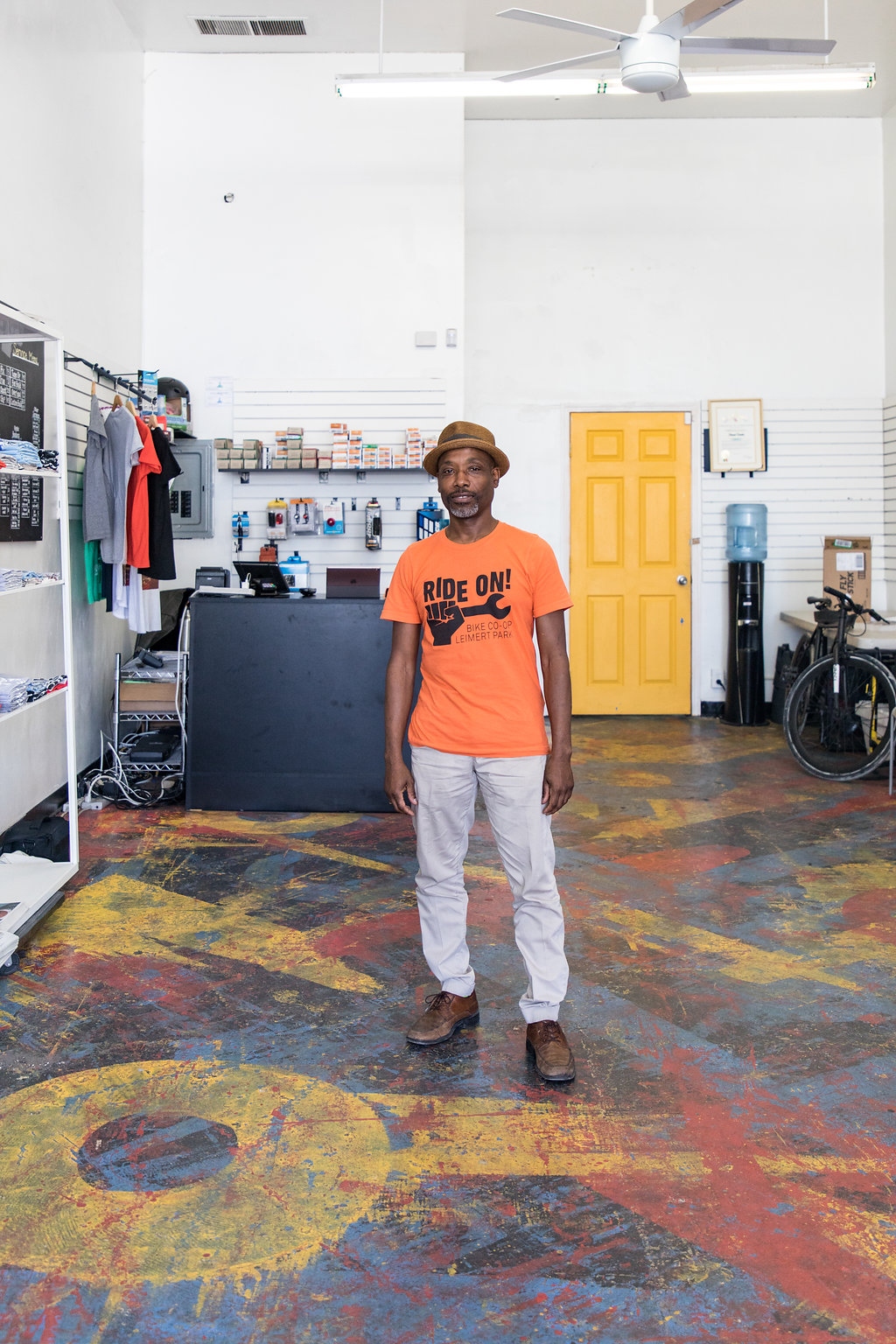 More from Adé Neff…
-Are you from LA? I moved here from Boston in the late 80s.
-What do you love about LA? Your neighborhood? I love the weather. It's what got me to stay in LA. If I have to go back to Boston, I refuse to go in the winter.
I used to hang out here in Leimert Park in its height in the 1990s. It was a who's who of jazz musicians. It was filled with creativity and artists. There were people playing chess. I think that energy is still here, and I think Leimert Park is on the upswing. I'm excited for the new coffee shop, Hot & Cool Café. Once the train is finished, there will be more foot traffic. I'd like to see us maintain our identity as a Black cultural hub. It's like going to Little Tokyo or Little Italy. There's an African-American artistic element, and I believe the city should support the small businesses that give Leimert Park its character. Everyone is welcome. The Historical Black Community should not be displaced, but should be here and be part of the development.
-Is there a restaurant, business, neighborhood favorite of yours that you would recommend? I love Natraliart Jamaican Restaurant. It used to be Juicy's. It's a store on one side and a restaurant on the other side, and it's right by The Underground Museum. I've been eating their vegan dishes like their yams, potatoes and ground ackee. I also love Stuff I Eat on Market Street in Inglewood and Azla Ethiopian in Mercado La Paloma.
TO VIEW HOMES FOR SALE NEAR RIDE ON IN THE 90008 ZIP CODE, CLICK HERE. COURTESY OF TOM LIND REAL ESTATE.
Ride On! Bike Shop/Co-Op. www.rideonbikeshop.com  4319 Degnan Blvd. LA, CA 90008. Tuesdays through Saturdays Noon-7pm. Sundays Noon-6pm. Closed Mondays. Phone: 323.903.5043 Email: Info@rideonbikeshop.com Facebook: @rideonbikecoop
Scroll down for more photos from Danielle Murray. Instagram: @andshesnapped