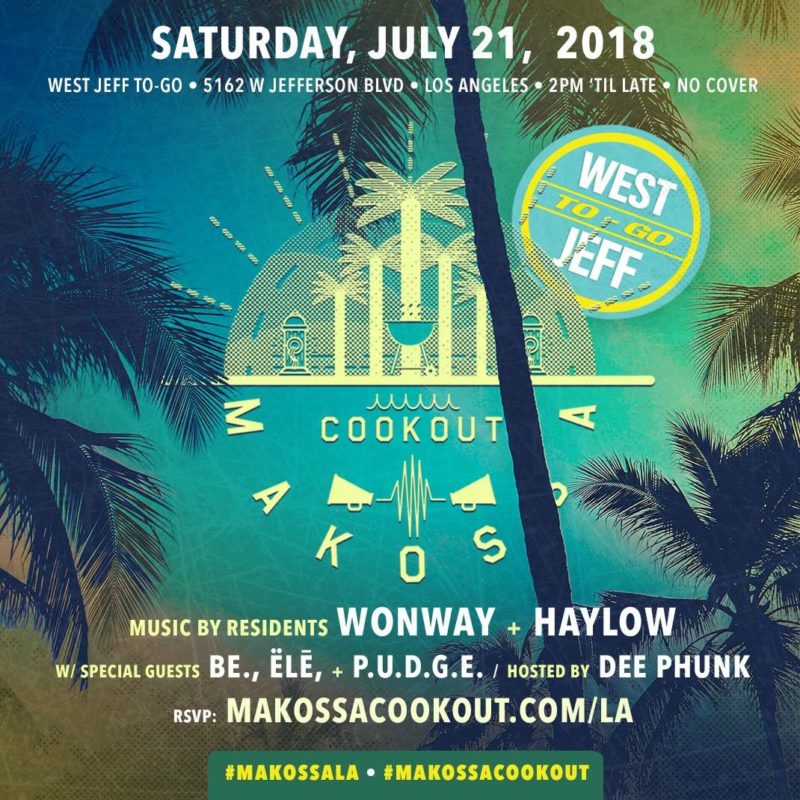 Looking for something to do this Saturday, July 21? Jefferson Boulevard's West Jeff To-Go is hosting the first LA Makossa Cookout of the summer at 2pm. What's the Makossa Cookout? It's a daytime summer soirée promoting community and good vibes in Brooklyn since 2010 and in Los Angeles since 2015. Sounds like something we can get behind!
The backyard BBQ turned block party will feature a great lineup of DJs ready to make you dance to a tropical assortment of tunes, full bar with drink specials and complimentary CBD vape bar to keep your vibe up all day long! Oh, and it's a soul food BBQ. Yum!
Plus, you get free admission if you RSVP via this link: http://makossacookout.com/la
If you haven't eaten at West Jeff To-Go, it's a great chance to check out this new-ish eatery from two Hollywood caterers. Expect great food and an awesome vibe.
Makossa Los Angeles Cookout
West Jeff To-Go. 5162 W Jefferson St. LA, CA 90016
Saturday, July 21 at 2pm
FREE Admission
RSVP Here: http://makossacookout.com/la
TO VIEW HOMES FOR SALE NEAR WEST JEFF TO-GO IN THE 90016 ZIP CODE, CLICK HERE. COURTESY OF TOM LIND REAL ESTATE.