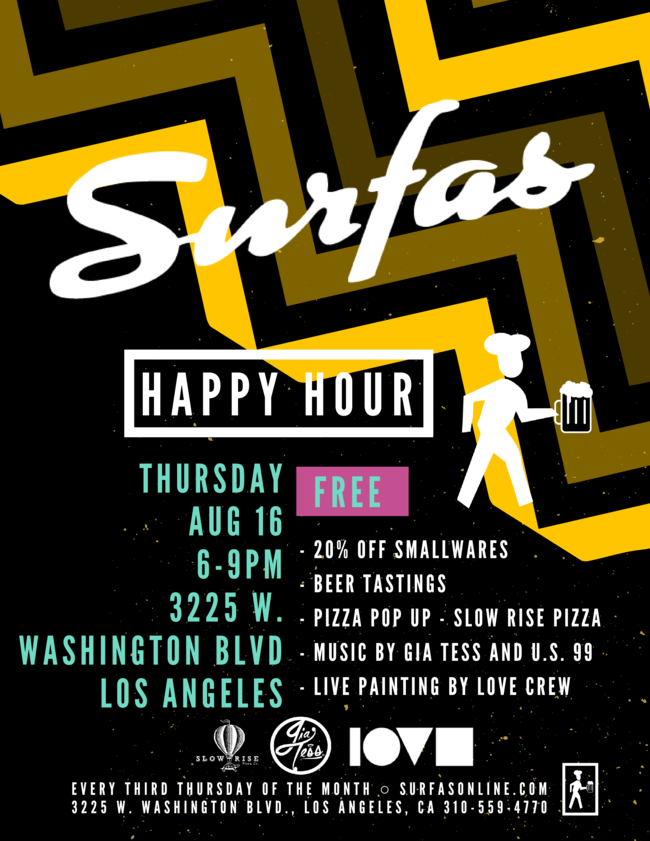 We rarely turn down a FREE happy hour, which is why we were excited to discover that Surfas Culinary District hosts one on the third Thursday of every month. The August happy hour is this Thursday, August 16 from 6-9pm.
Head to the mecca of all things cooking and food located on Washington Boulevard in the Arlington Heights neighborhood for a night of beer tastings, a pizza pop up from Slow Rise Pizza and music by Gia Tess. There will also be live painting by Love Crew. While you're at it, pick up some things for the kitchen with 20% select merchandise.
Mark your calendars for upcoming happy hours on Thursday, September 20 and Thursday, October 18.
TO VIEW HOMES FOR SALE NEAR SURFAS IN THE 90018 ZIP CODE, CLICK HERE. COURTESY OF TOM LIND REAL ESTATE.
Surfas Culinary District. www.surfasonline.com 3225 W. Washington Blvd. LA, CA 90018. Phone: 310.559.4770. Open Monday through Saturday 9am-5:30pm. Closed Sunday. Facebook: @surfasonline Instagram: @surfasla