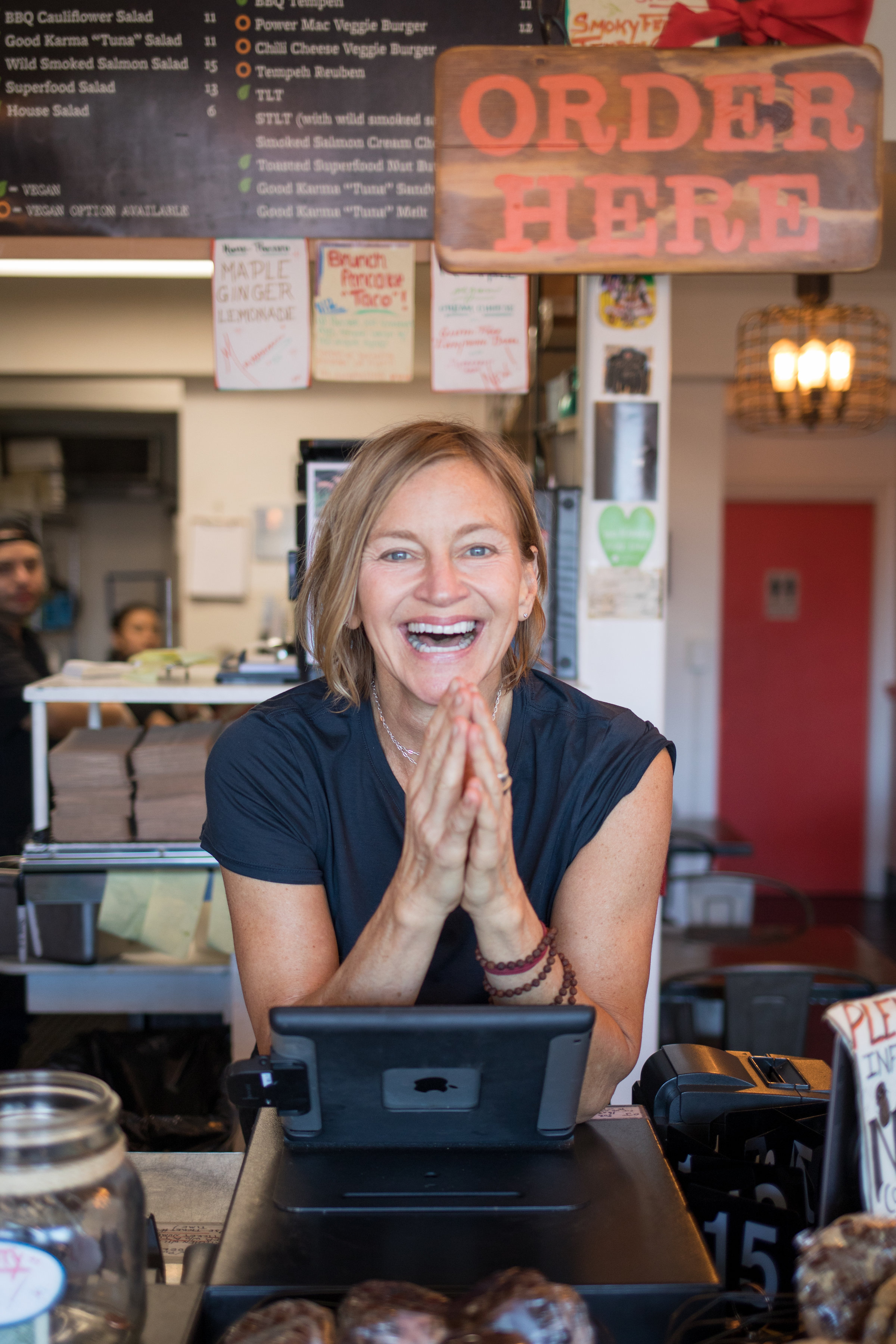 Pico Boulevard's Powerplant Superfood Café is so aptly named. When you walk in, you feel an energy. An energy from the environment. An energy from the menu. An energy from the beautiful, colorful dishes being passed out to patrons coming in and out. And an energy from the people. At the center of this power plant-based restaurant's energy is Owner Cynthia Moore, a former actor, writer and restauranteur who rescues and fosters dogs when she's not offering up nourishment and healthy, delicious food.
Moore is the mastermind behind the "Real Good Food" served for the last four years at this neighborhood spot that boasts "Love" as its secret ingredient. From fresh, homemade smoothies, juices and almond milk to the Power Mac Veggie Burger—quite possibly the best vegan burger we've ever had—to a rainbow of salads, Powerplant is super healthy. But you know what? It's also just really good, whether you're vegan or not. We sat down with Moore to talk about her mission and why she thinks you should stop by and see her.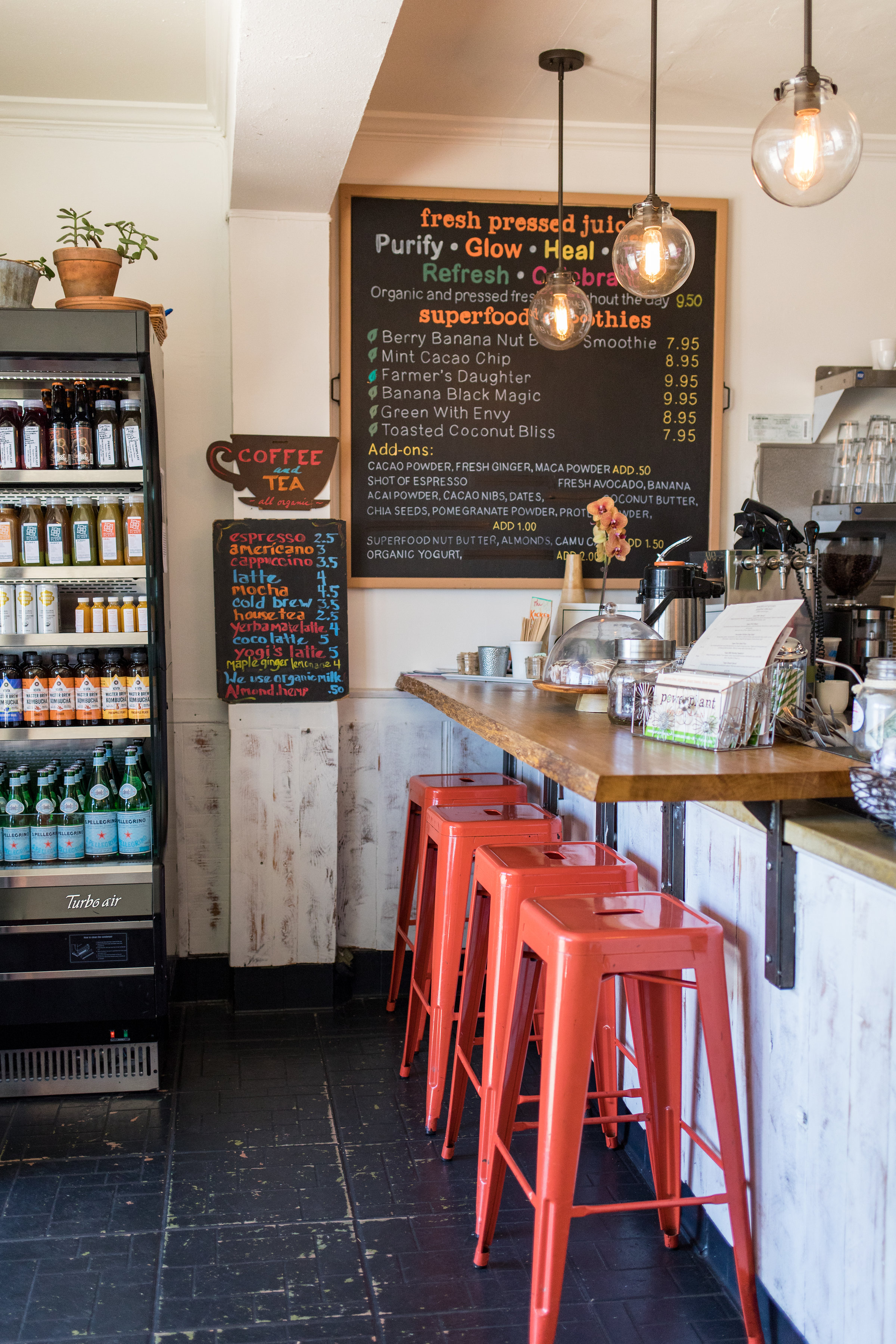 -What inspired you to open Powerplant Superfood Café? When I opened Powerplant, I was a six-day-a-week yogi. People used to say, "If I eat here, will I look like you?" These days, after a seven-day-a-week schedule for three years, they don't say that quite as often, but an amazing diet of fresh, plant-based food is absolutely what keeps me going! So why did I open Powerplant? Two friends and I began this precarious little endeavor focused on food integrity. They have since moved on, but I'm still here working hard because I want to nourish this community. People feel the love here. They feel the vibe and the spirit of the place. Just check out what they're saying on Yelp!
-What can customers expect? We are a plant-based café that is also gluten free. We make everything from scratch, and we have a very high bar when it comes to nutrients and food integrity. Beyond plant-focused food, we do offer organic eggs, cheese and salmon. The chef, who created the menu, is not vegan or gluten free, however, she brought a culinary charge to our plant-based offering, which has evolved into very healthy comfort food. While we don't fry our food, our goal is to make it as flavorful and as colorful as possible. Just look at our Green Plate Special—it's beluga lentil quinoa "meatloaf" over jalapeno creamed corn and pureed sweet potatoes topped with charred Brussel sprouts. People tell me they don't even miss the meat!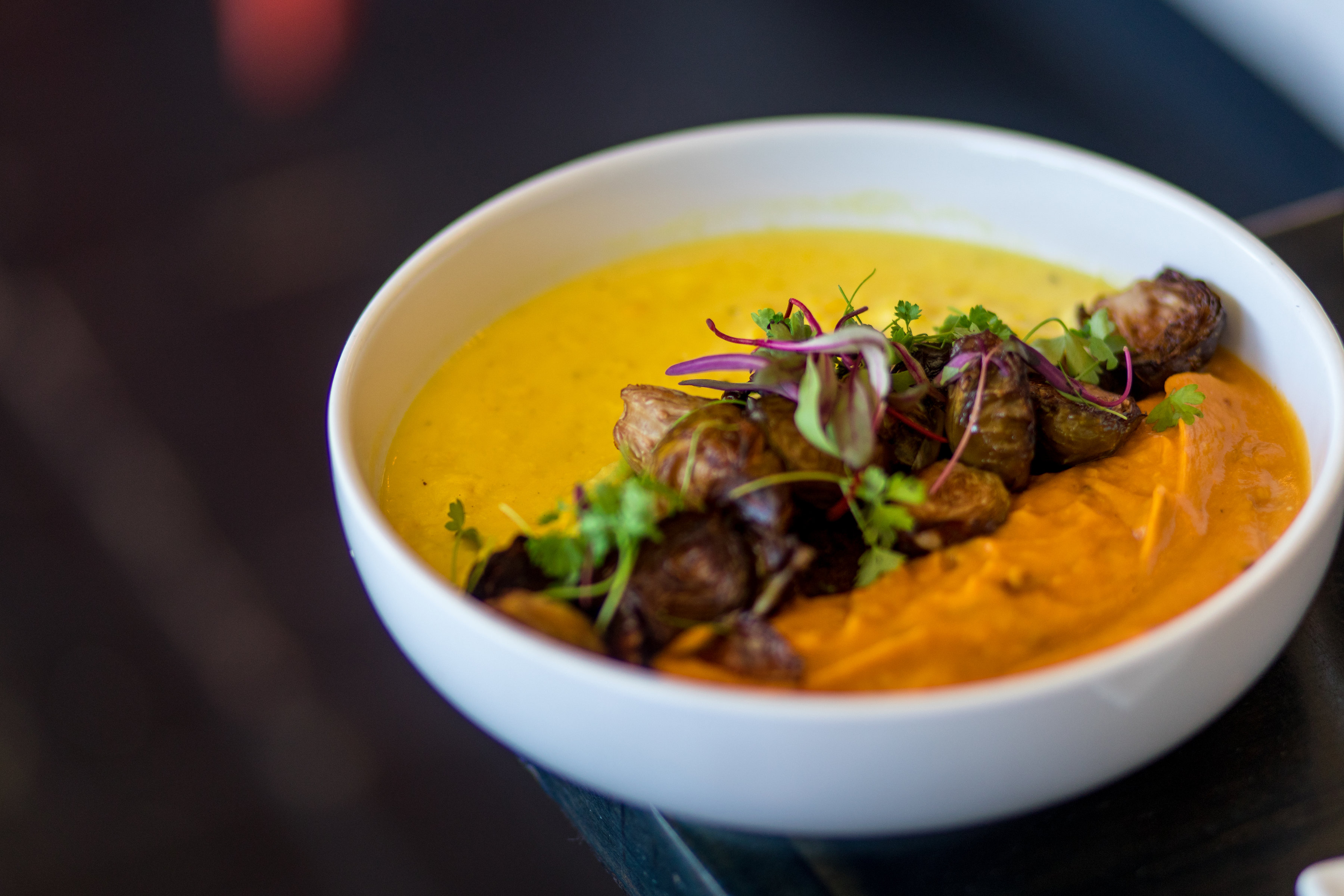 -What should our readers know about Powerplant? A big part of my job is to make everyone feel welcome, warm and embraced. I want people to love the food, but I also want people to feel loved by the food they eat. I want to be a beacon to people. We have loyal amazing customers who eat here three times in 24 hours. It's so touching. We're also getting a lot of new people, almost all from Yelp, who are eager to try our healthy, flavorful food. I invite the neighbors to stop by and check us out. And don't be surprised if I give you a hug.
-Have you always loved healthy food? I've always been into healthy food, but my understanding of it has changed through the years. I also think the overall consciousness has changed. People are no longer scared of a 100 percent gluten-free restaurant. People do still get tripped out about the word vegan, but we're not totally vegan. And we make everything from scratch. We make our own organic tortillas. We make our own almond milk. We like flavor. One reviewer said thank God a vegan café is not afraid to season its food.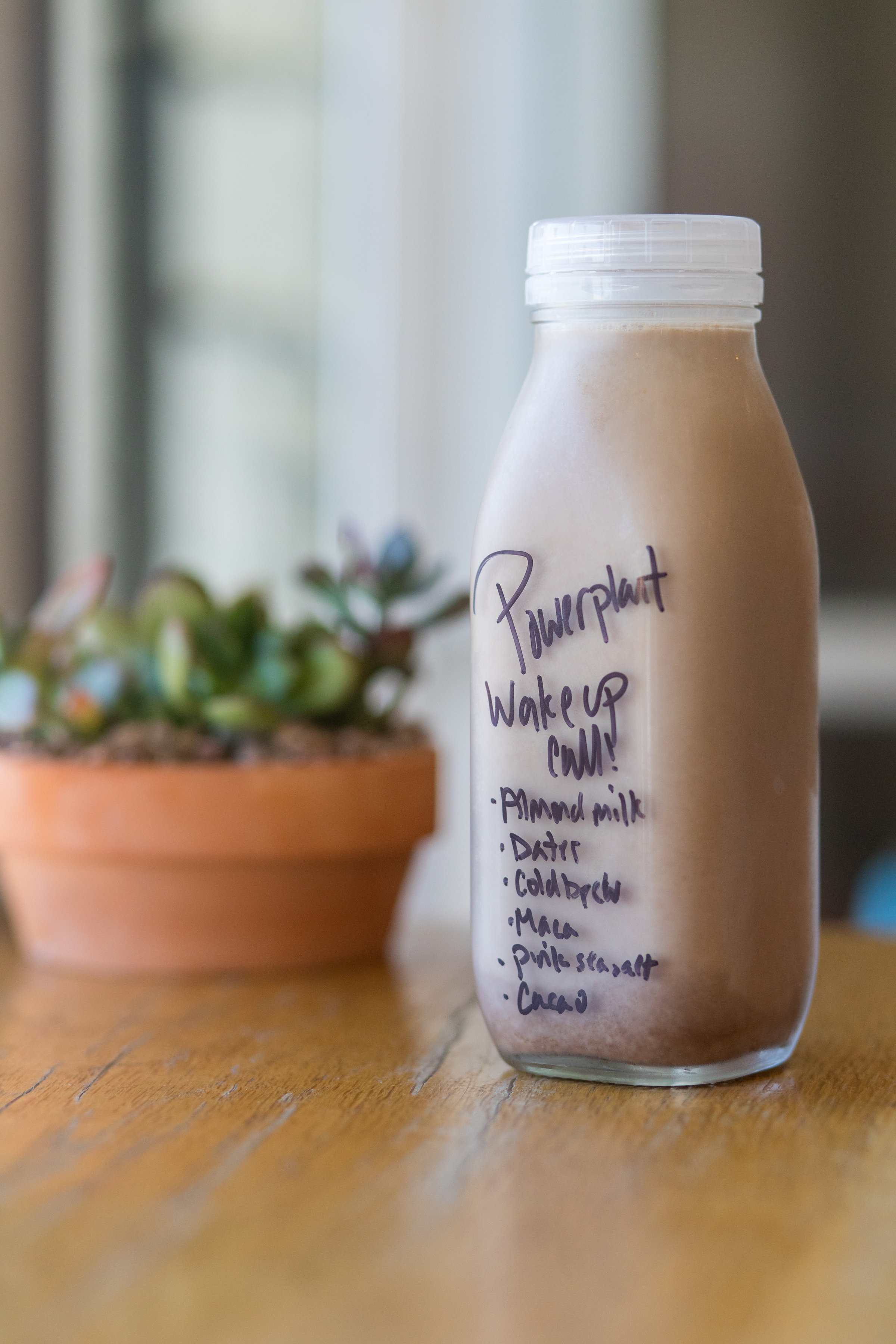 -What are your favorite dishes? What are the bestsellers? Our gluten free, vegan French toast is amazing. Our entire seasonal specials sheet rotates, but it's where the kitchen really shows off their skills. The Power Mac Veggie Burger is phenomenal, along with all of our burger patties, which we make in house. The green plate special is a shock to many people because it's meatloaf without the meat. My absolute favorite is the Powerplant Kitchen Chop Salad with greens, quinoa, pepitas, corn, cilantro, red onions, beets, radish, carrots and tomato topped in our thyme vinaigrette and topped with fresh avocado. The food is really special here, and so is the clientele, which is why I've made sacrifices to stay here.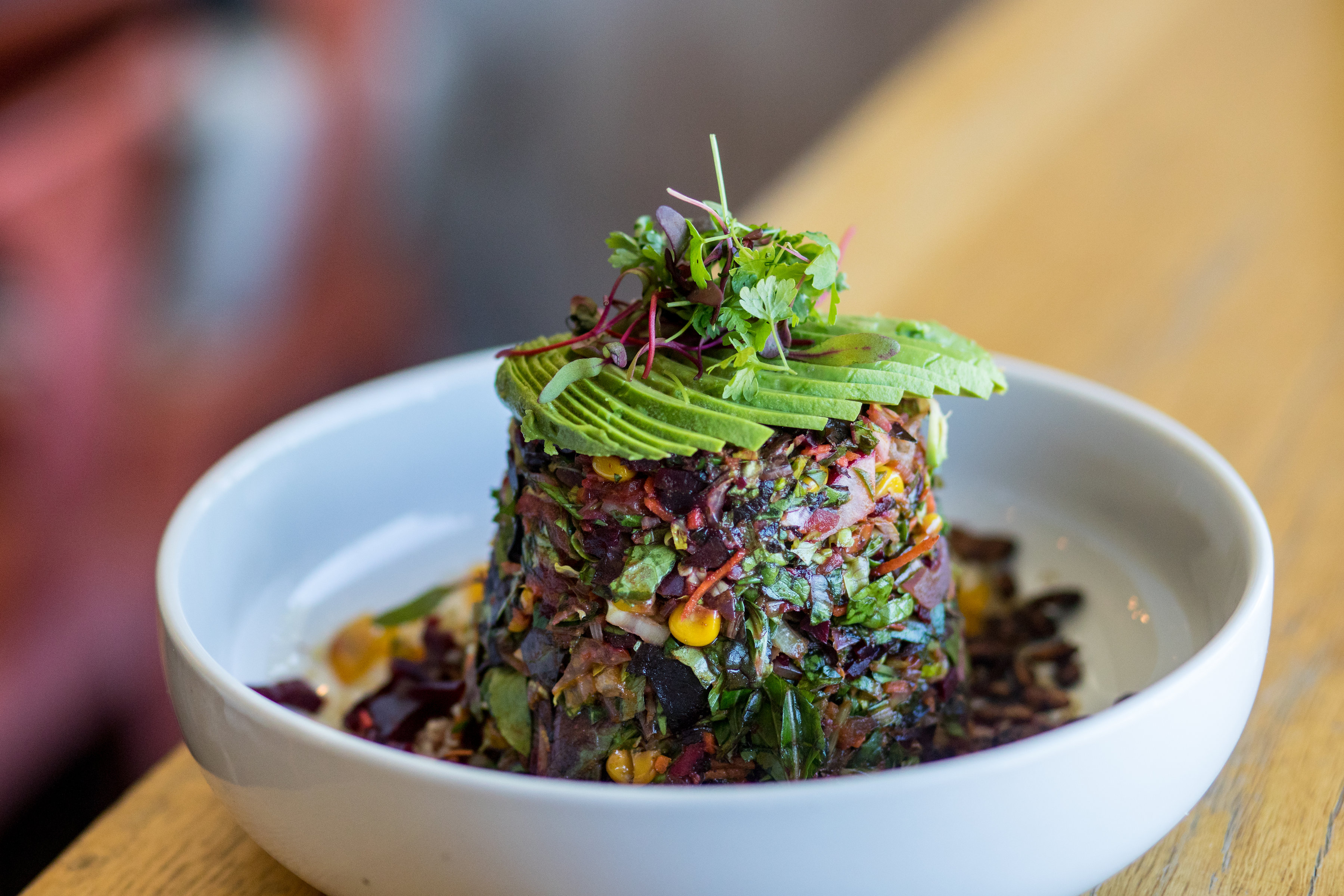 More from Cynthia Moore…
-Are you from LA? I was born in Savannah, Georgia then grew up in a small town in Georgia. I went to college in Atlanta where, with two friends, I founded the popular Flying Biscuit Cafe which was later franchised. I cut my restaurant teeth fast and furious there. I've now been in LA for 22 years and live in Mid City, not far from Powerplant.
-What do you love about LA? Your neighborhood? I love the sunshine. It's such a beautiful state we live in. I love the mountains and beaches. I swear I'll see them again some day when I'm not working. We have so many micro-climates. I really like to live in a city, but you can definitely make a small town out of LA. I know my people at the dry cleaners, at the hardware store, at the bank, and I enjoy that. I love connecting with people. This neighborhood, Mid City, has meant a lot to me. There are grooves in the sidewalk here from walking the dogs that I rescue and foster.
-Is there a restaurant, business, neighborhood favorite of yours that you would recommend to our readers? I love Hound Dog + Cat Food and Supply. Karina literally feeds my dogs. I also recommend My Two Cents. I love Chef Alisa. She's very dynamic, intense and fun. Quite a force! We have a strip of women-owned businesses here on Pico, and I love it.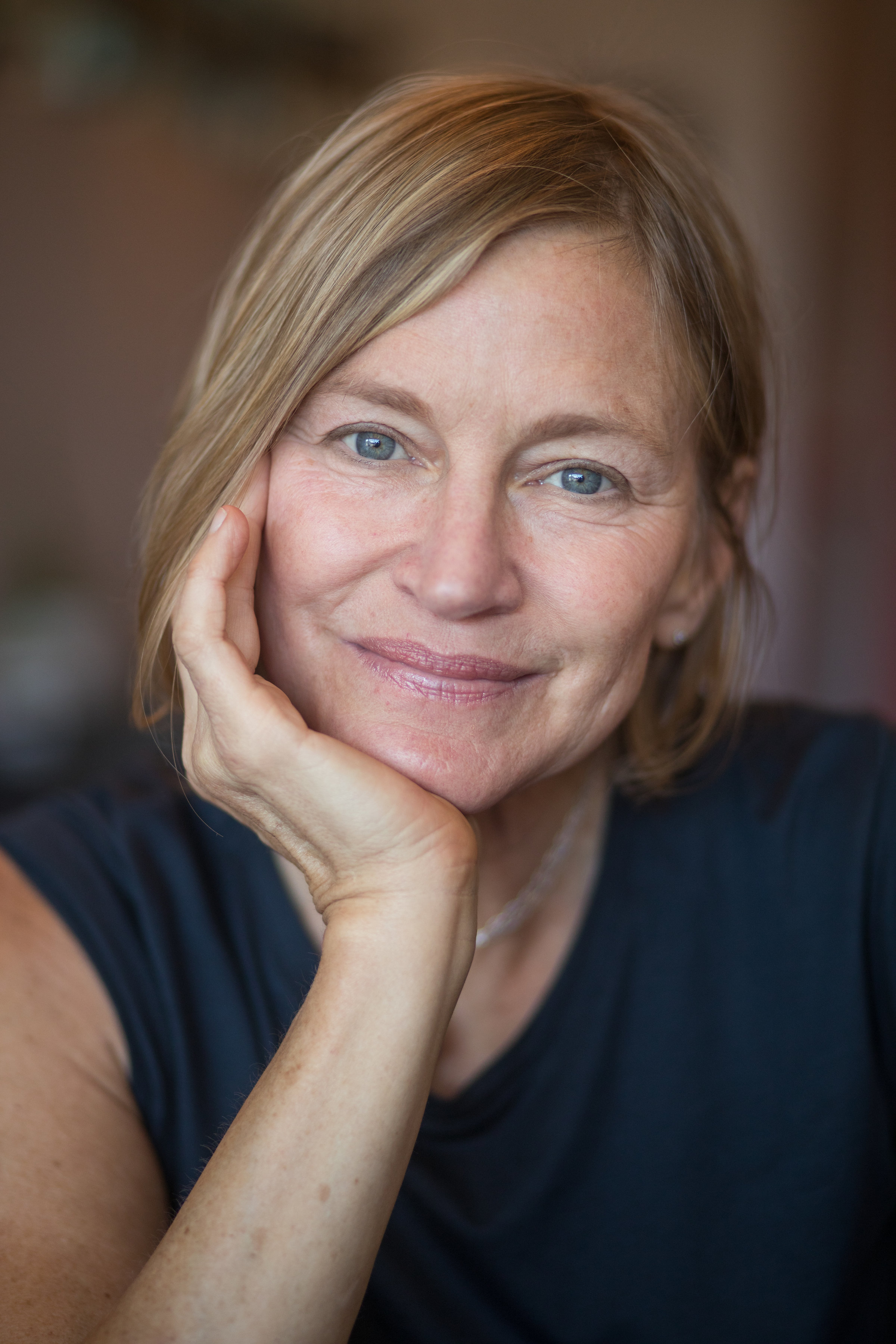 TO VIEW HOMES FOR SALE NEAR POWERPLANT SUPERFOOD CAFE IN THE 90019 ZIP CODE, CLICK HERE. COURTESY OF TOM LIND REAL ESTATE.
Powerplant Superfood Cafe. www.powerplantsuperfoodcafe.com 5671 Pico Blvd. LA, CA 90019. Open Monday through Saturday 9am-7pm. Sunday 9am-4pm. Phone: 323.965.2233. Email: powerplanthiring@gmail.com Facebook: @powerplantcafe  Instagram: @powerplantla
Scroll down for more photos by Danielle Murray. Instagram: @andshesnapped