It's hard not to smile when you walk into Leimert Park's Hot & Cool Café. From the bright colors to the cheeky slogan "If it ain't hot, if it ain't cool, it ain't here" scribbled above the coffee bar to the ear-to-ear grin of owner Tony Jolly, the place just feels right. Most days, the newish coffee spot has a good mix of drop-ins coupled with neighbors who just want to sit, talk and enjoy their coffee. The latter is exactly what Jolly wants. After opening Starbucks locations and venturing into the specialty coffee market, he is bringing his crop-to-cup concept to life at Hot & Cool Café.
-Have you always loved coffee? In 1996, I started working at one of the country's busiest Starbucks in Washington DC. I soon opened other Starbucks locations, but then I met my wife, and we moved to Boulder, Colorado. There I was introduced to specialty coffees, and I began sourcing coffees from Ethiopia. I helped farmers increase their capacity and their quality, while reducing their impurity, for the specialty coffee marketplace. I worked with a 50-acre, woman-owned farm in Ethiopia with 100 year-old trees. Now we're importing their coffee here at Hot & Cool Café.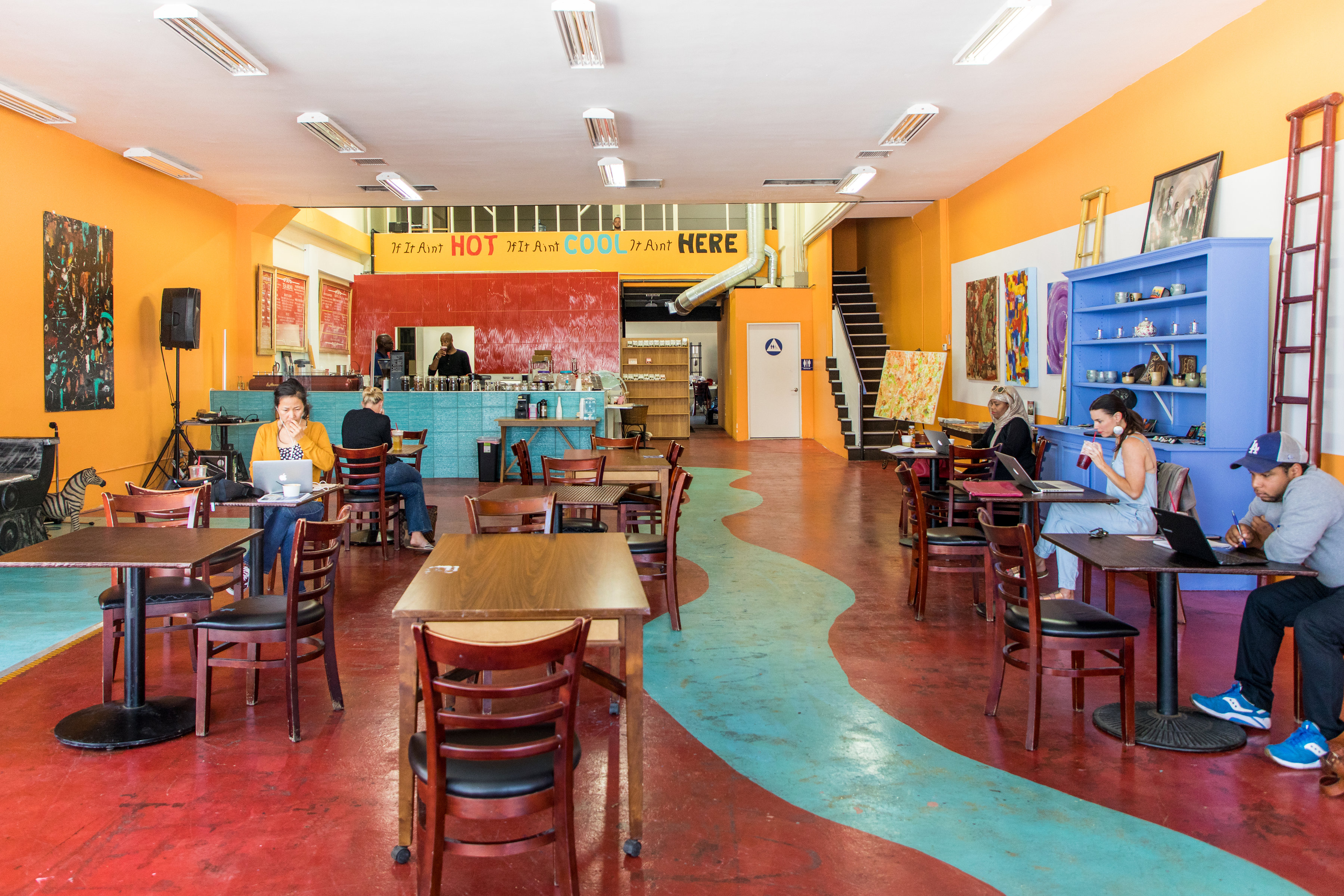 -Why open Hot & Cool Café, your own coffee shop? While in Colorado, I also taught myself how to roast coffee. I wanted to bring a crop-to-cup concept to life in a coffee shop. While I was at a coffee conference in Seattle, a friend of mine said he wanted to open a similar coffee shop in LA. I was living in San Jose at the time, and I decided to move here. Now I'm bringing this vision to life.
-Why open in Leimert Park? Leimert Park just felt good. Plus, people who live here deserve the standards of the "Westside coffee shop" without having to sit in traffic to get a specialty coffee and an avocado toast. And Leimert Park will once again become an arts destination, and I like that. You'll see we have a large white strip on the wall. We want to make it a semi-art gallery and hang rotating paintings and art there.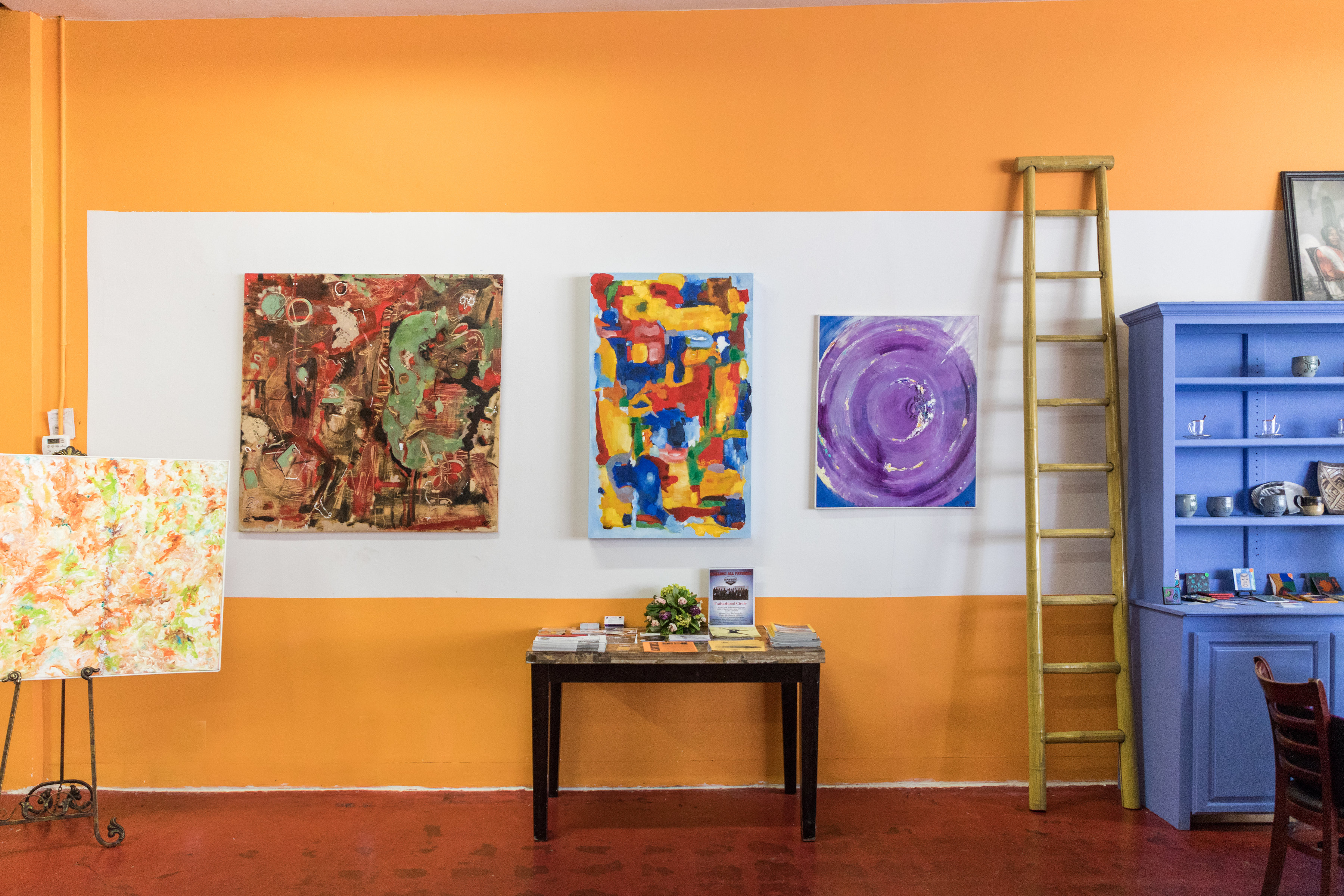 -What is your specialty? What should customers make sure to try? Our main coffee from Ethiopia is called Karkarsa. It's a medium-bodied coffee with notes of white pomegranate. We also have specialty teas. I think herbs are the new vegetable in terms of health benefits, so we strategically chose the group of teas we serve. People should definitely try the lavender and jasmine tea lattes. In terms of food, try the Honey Toast, which is a Hawaiian desert, and the soups and chili are vegan.
-What else should our readers know about Hot & Cool Cafe? We don't have outlets to plug in your computers, so come with a full battery. We did this on purpose, as we want people to come collaborate, network and grow. We also have events like a $12 Pancake Social every Sunday from 9am to noon. Check out our Instagram for details.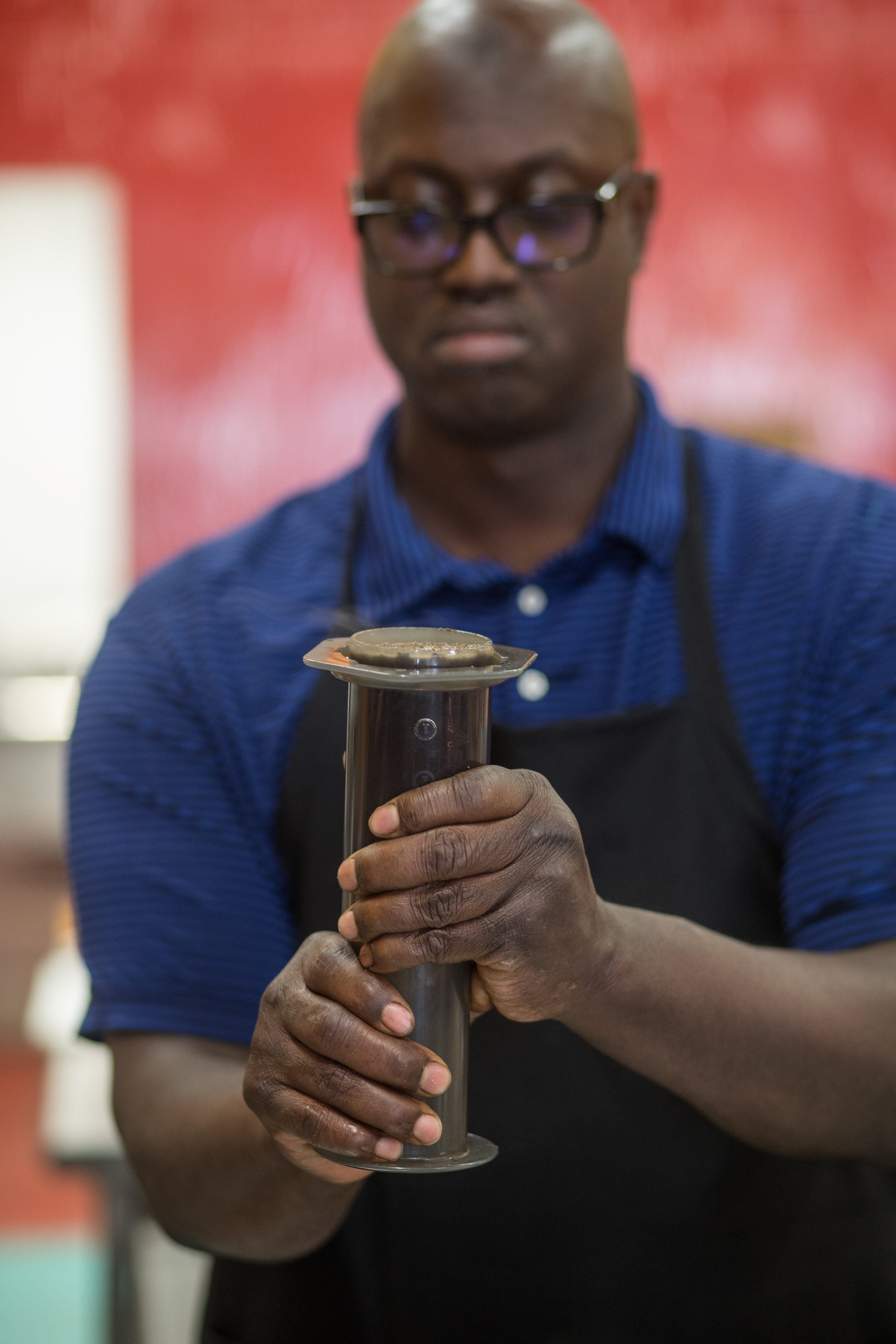 More from Tony Jolly…
-Are you from LA? I'm from Washington DC, but I now live in Leimert Park.
-What do you love about LA? Your neighborhood? I like that there is such an eclectic group of people that co-exist in Los Angeles. I've been here for two years, and from what I hear, Leimert Park Village was the place to go for music and entertainers, but it kind of lost some life after the riots. I know the energy is still here. If it's watered, it will grow.
-Is there a restaurant, business, neighborhood favorite of yours that you would recommend to our readers? I love Prism Coffee on Crenshaw between Pico and Olympic. They roast their own, and it's a great cup of coffee. They're young and there's a great energy there.
TO VIEW HOMES FOR SALE IN LEIMERT PARK AND THE GREATER 90008 ZIP CODE, CLICK HERE. COURTESY OF TOM LIND REAL ESTATE.
HOT & COOL CAFE. www.hotandcoolcafe.com 4331 Degnan Blvd. LA, CA 90008. Open daily 7am-10pm. Instagram: @hotandcoolcafe
Scroll down for more photos by Danielle Murray. Instagram: @andshesnapped