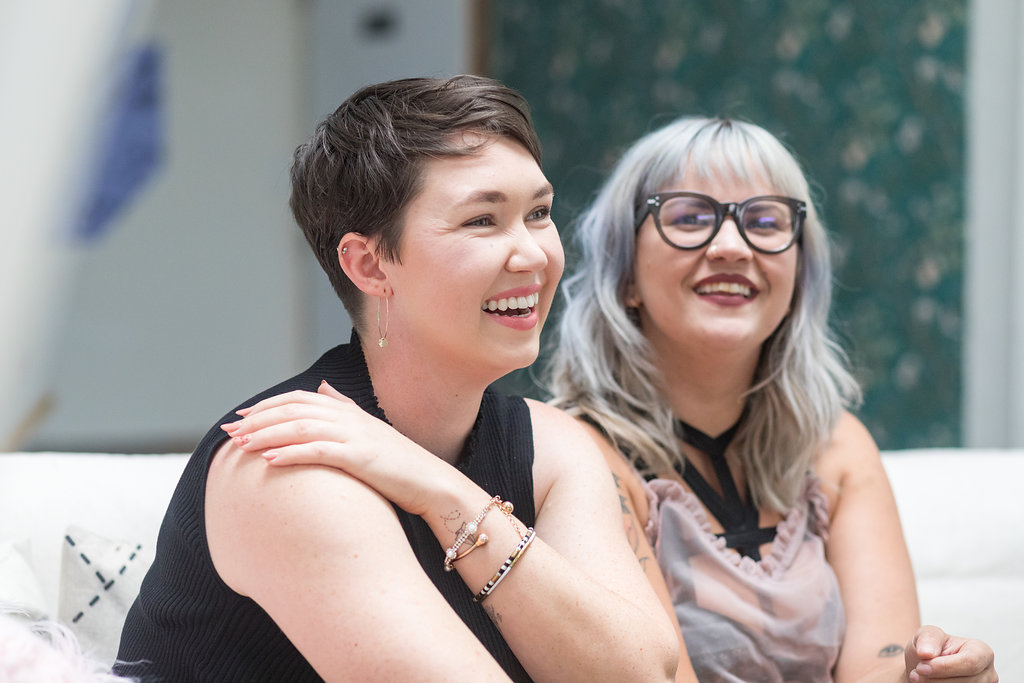 If you're headed west on San Vicente in Mid City, you're bound to see it. As you creep toward La Brea, there it is, to the right. Giant pink letters spelling out A L L M O S T. We had seen it for months. We wondered…Is it almost done? Are we almost there? Is it almost spelled correctly?
Beneath those large, bold letters lies a large, bold space. In 2015, the former tile factory began a transformation led by Theresa Baxter and Isaac Appiah. Baxter had been looking for creative studio space and found it on the Eastside, but lived on the Westside. Born in Culver City and with family on the West side, she wondered why the two sides couldn't meet in the middle.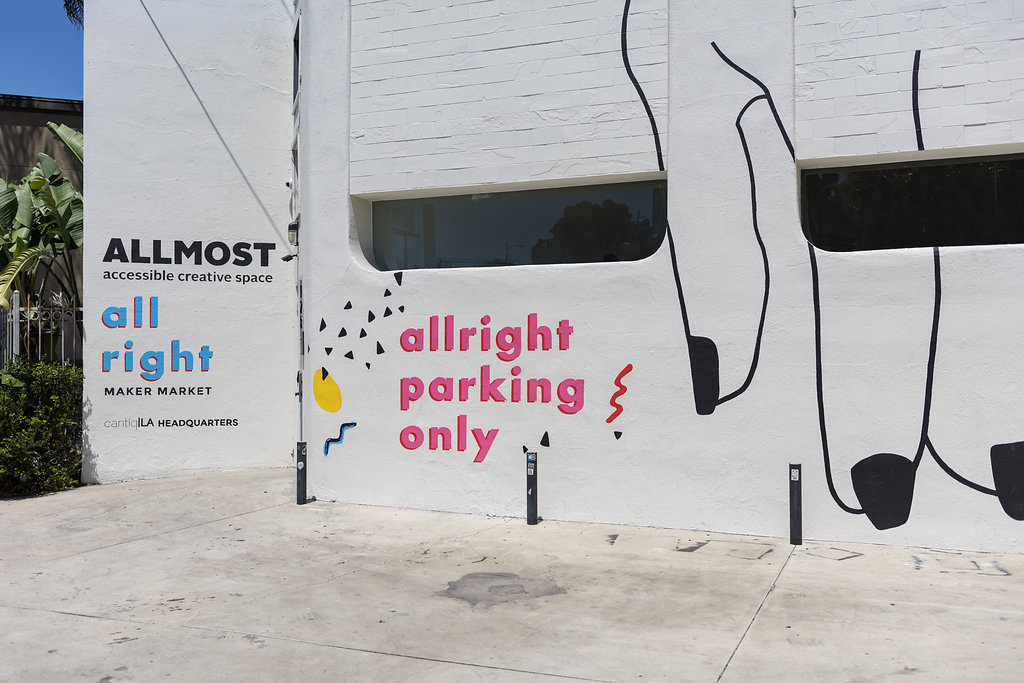 "I had moved back to LA after attending university in Austria. My family is here and this just felt like my place. I wanted to put down roots and pursue my own design and illustration career. I was looking for art studios that were financially accessible, and they were hard to find" said Baxter. "With Allmost, we wanted to create a place that felt underground, but that was also professionally managed and up to code. Other spaces and studios did not have leadership. We wanted to fill the gaps."
And so Allmost Studio & Gallery was born with a mission to provide accessible creative space, resources and community for up-and-coming artists and creatives in Los Angeles. Baxter and Appiah started building out studios in the space in October of 2015. In April 2016, they were ready to launch. And in March of 2018, they teamed up with Chelsea Hughes and launched Allright Collective, a maker market featuring select local DIY'ers, designers, crafters and artists showcasing and selling their wares.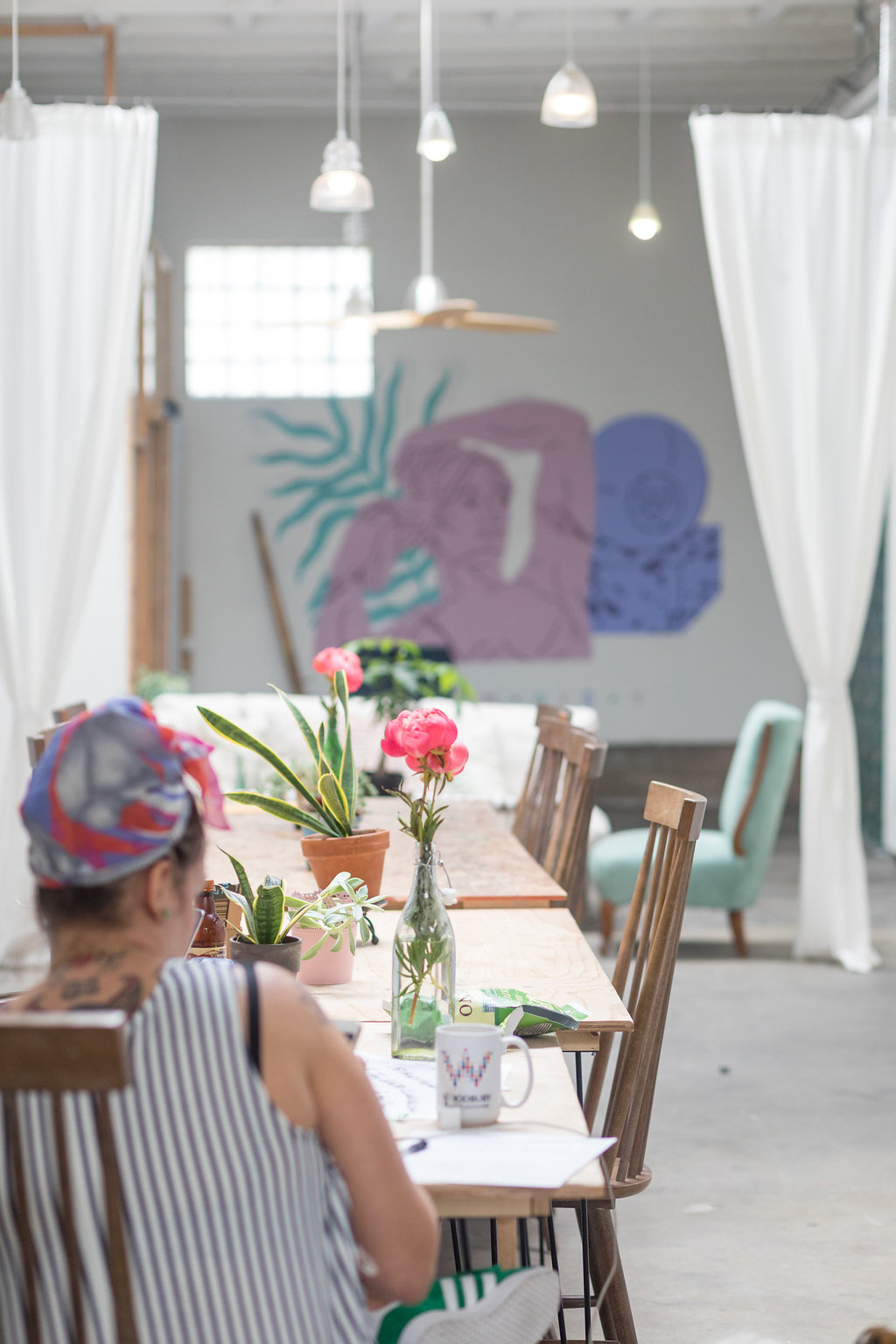 Today, you'll find artists and creatives filling up independent workspace upstairs. Downstairs you'll find the former tile showroom, now serving as the home of Allright Collective, a retail shop with an eclectic mix of vendors.
"When we moved in, we didn't have a huge budget. We had to repurpose a shell of something. For a studio, there's not a lot you need, and we wanted people in the space to create what they wanted," continued Baxter. "Today the space is not only filled with creative and inspiring people, but we also have screenprinting and woodshop and other solutions in place for our artists. We're truly offering a full-service showroom, production space and retail space, which was the crazy goal when we set this thing in motion."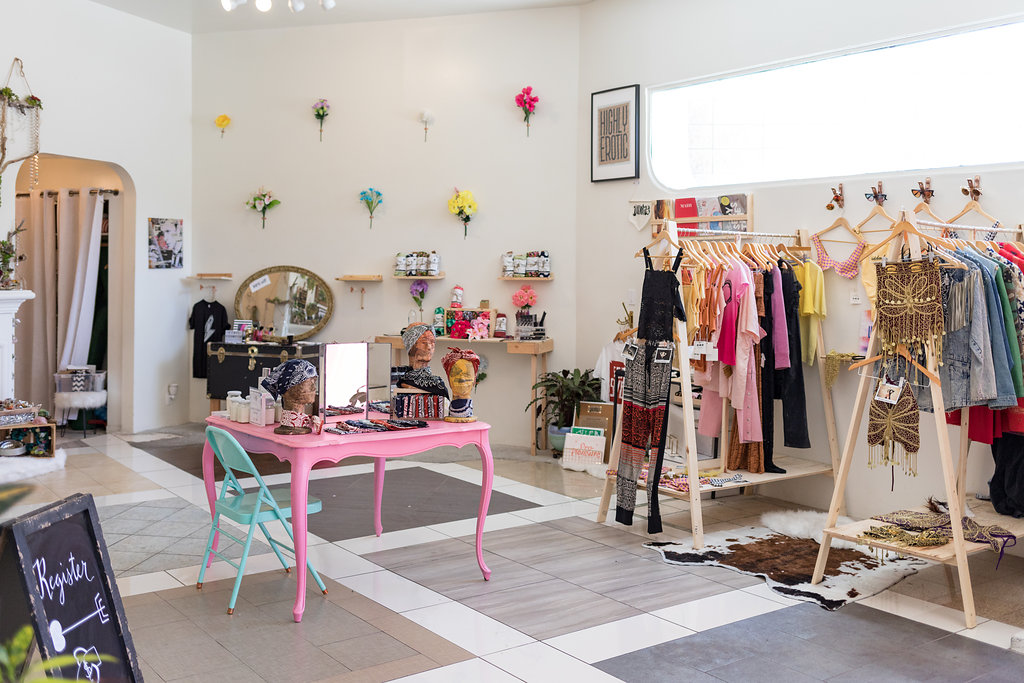 If you're an artist or creative looking for a private studio or office space or a creative co-working membership, Allmost offers both. Plus, it presents opportunities to plan events, photoshoots, workshops and more in the community space. There are currently seven private studios and plenty of areas for co-working, meetings and more. For more on how to join Allmost, click here.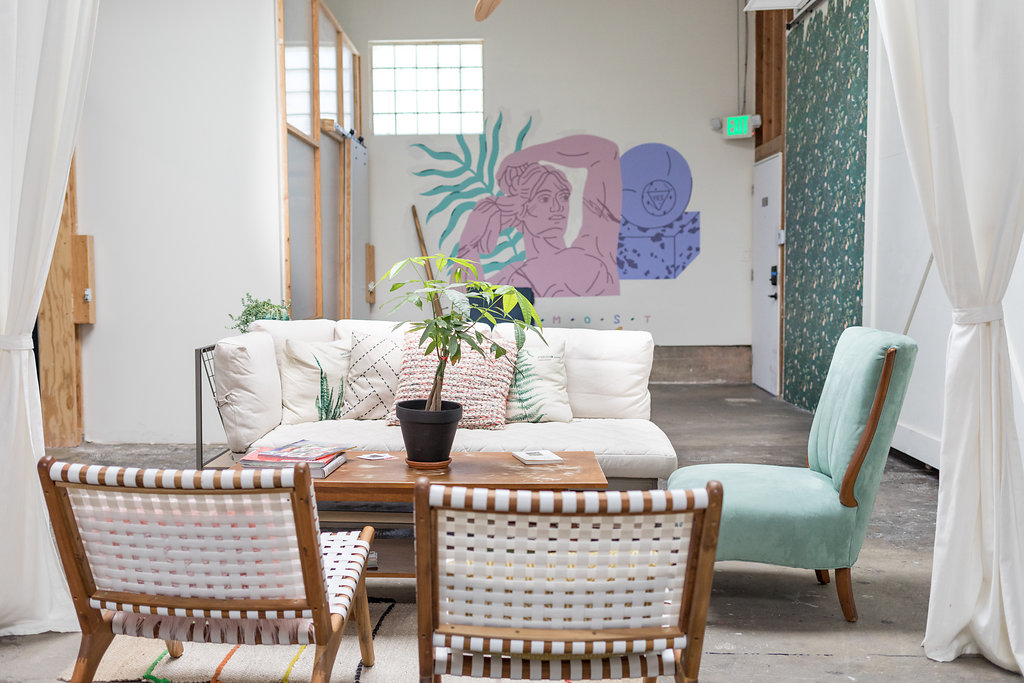 If you're a neighbor or someone who loves supporting local artists and makers, you must stop by Allright Collective open every Wednesday through Sunday from noon to 7pm. Shop for one-of-a-kind jewelry, clothing, skincare, candles, lingerie and more. All locally made in LA. Housed in Allmost's former gallery space, the market is managed and curated by Chelsea Hughes, the woman behind cantiqLA, a handmade, body positive lingerie line. Hughes' brand was part of the first-ever magazine editorial shot at Allmost, and she's been involved ever since.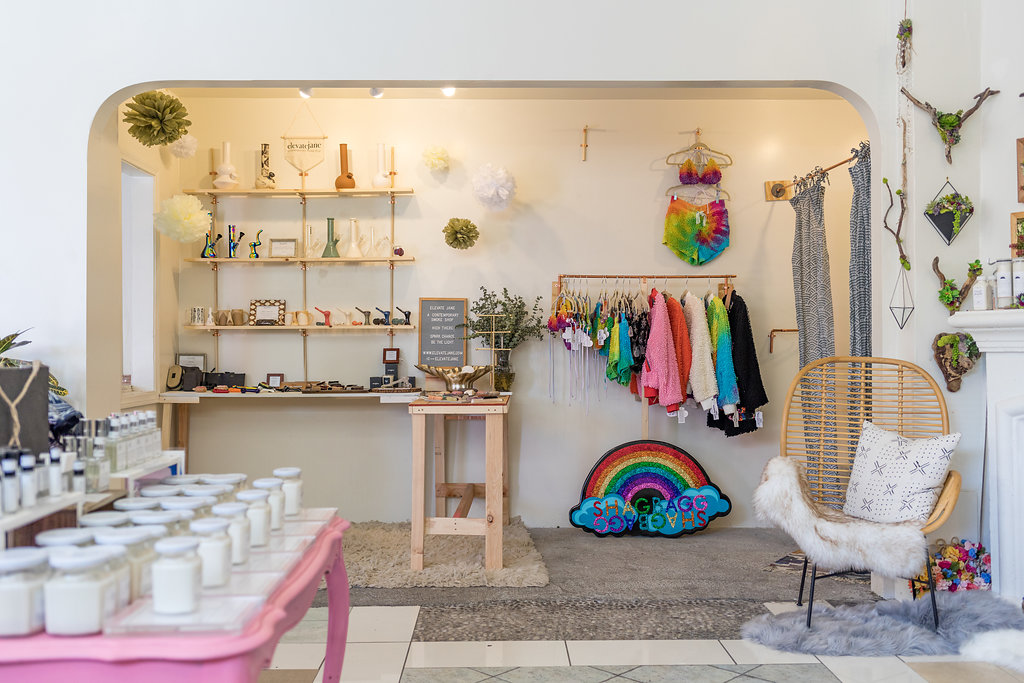 "It's so powerful to have fully local vendors at Allright, and interestingly, its predominantly run by women. Our vendors love to collaborate, and it's been so positive for the larger creative community," said Hughes. "We love having a space that's actually run by artists because we've been on the other side, and we understand the struggle of starting a small, creative business."
In addition to its regular store hours, Allright offers unique events for neighbors, avid shoppers and passers-by. From New Moon Nights with Reiki healing, natal chart readings and wine to Pride celebrations, make sure to check out their Instagram for all the latest upcoming events including So-So Saturdays, a monthly pop-up event every third Saturday of the month—usually themed. This month the theme is arts and crafts.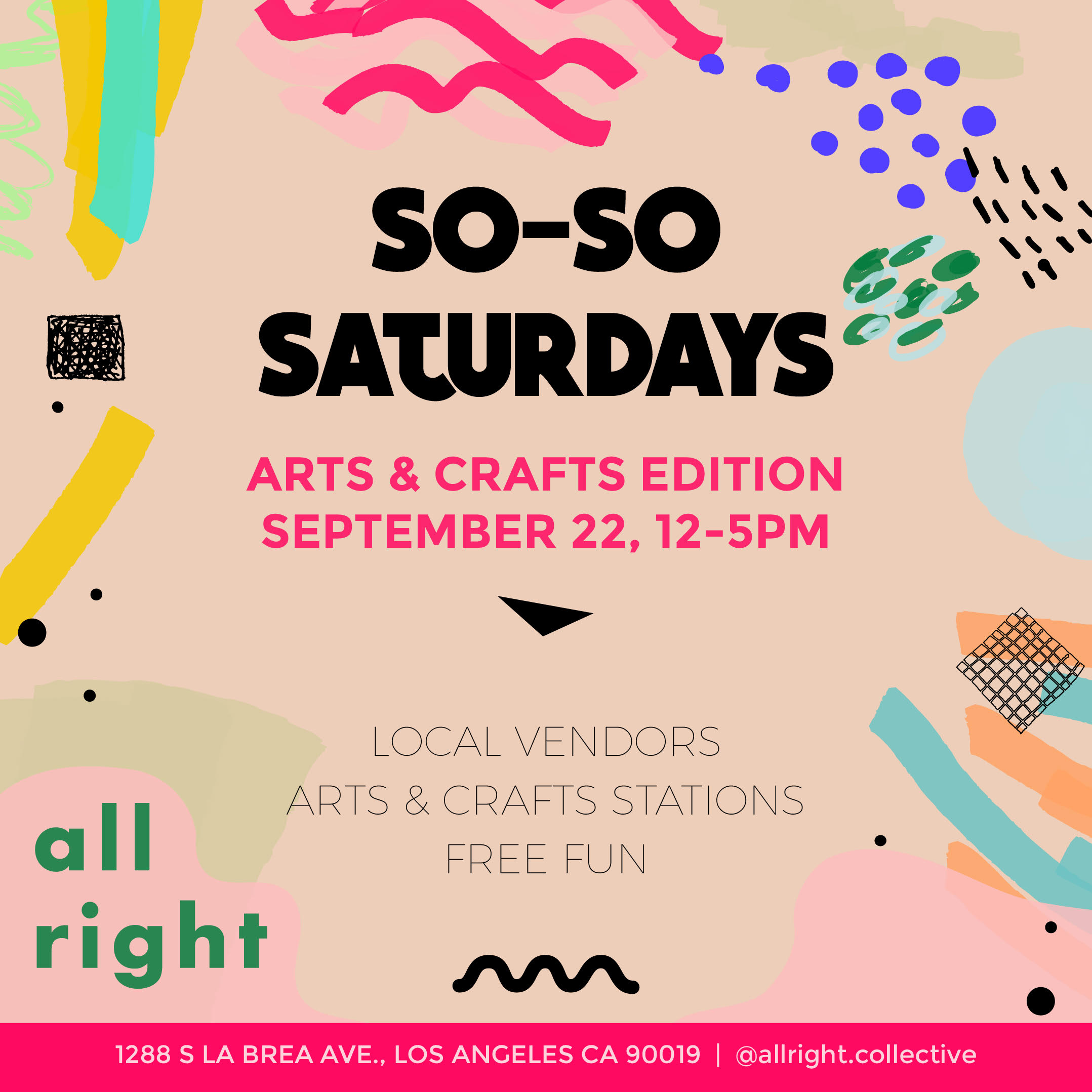 Allright, we're Allmost done, but what about the name?
"Allmost. To me, the name changes as the business changes. I love puns. We're sort of a gallery. We're sort of a maker space. We're almost a gallery. We're almost a studio. We can be anything we want to be, (mostly)," said Baxter.
That's all the explanation we need.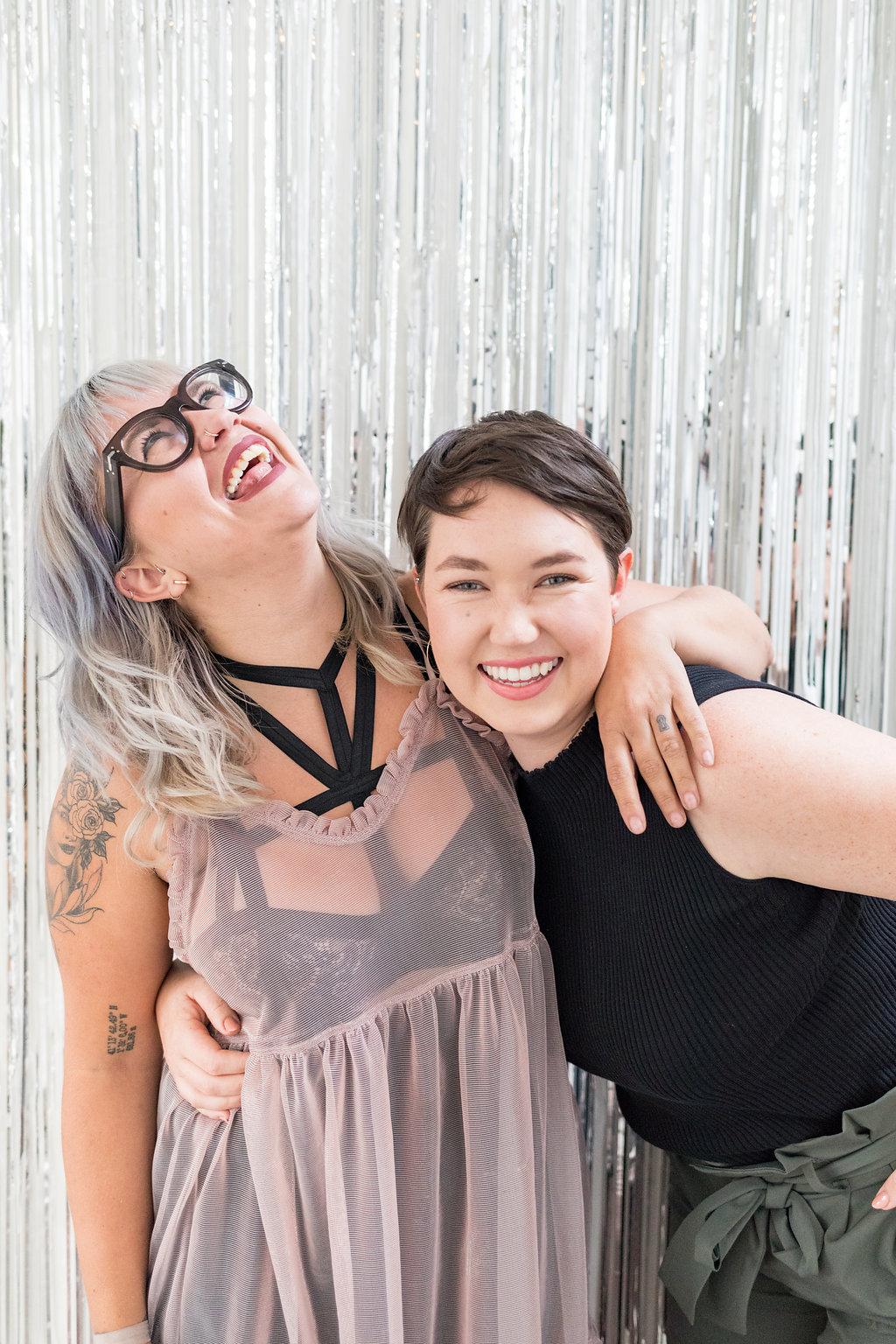 More from Theresa Baxter and Chelsea Hughes…
Theresa Baxter:
-Are you from LA? I was born in Culver City, but I grew up in eight different states. My grandparents have lived here my whole life, so LA feels like my home. I now live in Mid City.
-What do you love about LA? Your neighborhood? I love the energy here. It feels like everyone you meet is pursuing something whether a dream or a goal. I also feel like there are two modes. You can experience manic creative energy. Or just relax and do nothing. People say it's hard to make friends here, but I say reach out. People want to collaborate, and they're willing to give back.
Mid City is one of LA's most quietly beautiful neighborhoods. You can drive down La Brea and not really know it's here. I know all of my neighbors! In my experience, that's not usual for LA.
-Are you an artist yourself? I have always made art, but I hated art school. It made me not want to make anything so I went to school for psychotherapy, thinking that I'd eventually do art therapy. Focusing on something else let me find a different way of making art. I started working with clients, and it gave my illustrations a purpose. I was problem solving, and it has been fun to adapt. You can see my illustrations on Instagram @reesabobeesa
-Is there a restaurant, business, neighborhood favorite of yours that you would recommend to our readers? I really like Powerplant Superfood Café on Pico as well as My Two Cents. I also like The Grain Café also on Pico. Mateo's Ice Cream is unbelievably good. There's Hound Dog + Cat for pets. Oh, and a little further north on La Brea is Liz's Antique Hardware. It's one of my favorite places to go and be transported and fascinated. Please interview them!
Chelsea Hughes:
-Are you from LA? Yes, I grew up in Malibu. I currently live in Koreatown, but I like to say I live at the edge of Mid City.
-What do you love about LA? Your neighborhood? People don't realize that LA has been a community for the cultivation of small business. The Fashion District has the raw materials. There are so many creatives. You can find models and hair and makeup people. We have the space—both physically and also with the type of people who are here. I do not think I could have done this anywhere else with the budget I was given. Starting a creative business is mostly difficult, but here there are like-minded people.
I love the community in Mid City. I love how we're in a city, but it doesn't feel like a city. This feels like a neighborhood!
-Are you an artist yourself? Yes, my lingerie line, @cantiqLA, is so deeply rooted here. That first photo shoot at Allmost gave my brand legitimacy. I wouldn't believe you if, at that time, you told me I'd eventually be running the maker store with Theresa.
-Is there a restaurant, business, neighborhood favorite of yours that you would recommend to our readers? I love Belizean Paradise on La Brea. I eat there more than I should. I also love Soto's Kitchen, which is family run. Here at Allright, we're 90 percent vegetarian or vegan, so they updated their menu and introduced soyrizo and jackfruit, which we love. And on La Brea, there's a Habitat for Humanity ReStore that re-sells furniture and building materials that's great!
TO VIEW HOMES FOR SALE NEAR ALLMOST IN THE 90019 ZIP CODE, CLICK HERE.COURTESY OF TOM LIND REAL ESTATE.
ALLMOST STUDIO & GALLERY. www.allmost.us 1288 S. La Brea Ave. LA, CA 90019. Facebook: @allmost.us Instagram: @allmost.us  
ALLRIGHT COLLECTIVE. 1288 S. La Brea Ave. LA, CA 90019. Open Wednesday through Sunday, noon to 7pm. Facebook: @allright.collective Instagram: @allright.collective
Scroll down for more photos by Danielle Murray. Instagram: @andshesnapped