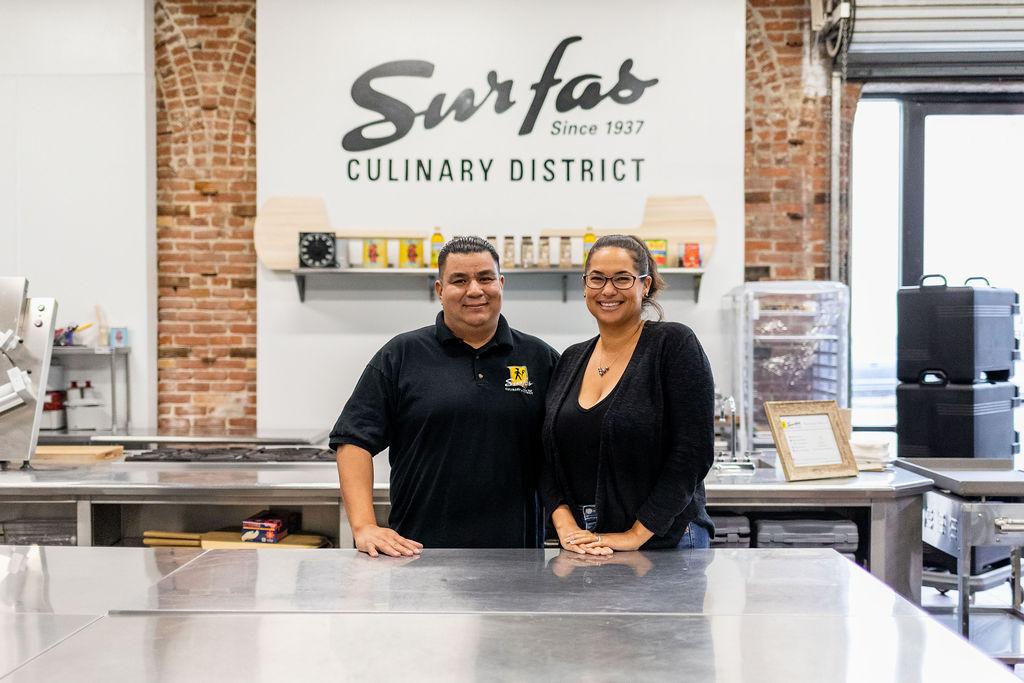 I used to drive by Surfas Culinary District at the corner of Washington and National in Culver City and be too intimidated to walk inside. I pictured high-end chefs perusing cookware in a culinary nirvana that was too sophisticated for me. Oh, how wrong I was.
Surfas Culinary District, now located at 3225 W. Washington Boulevard at 3rd Ave.—just west of Arlington in the Arlington Heights neighborhood—is the friendly, foodie-focused store and café I'd hoped for, plus so much more.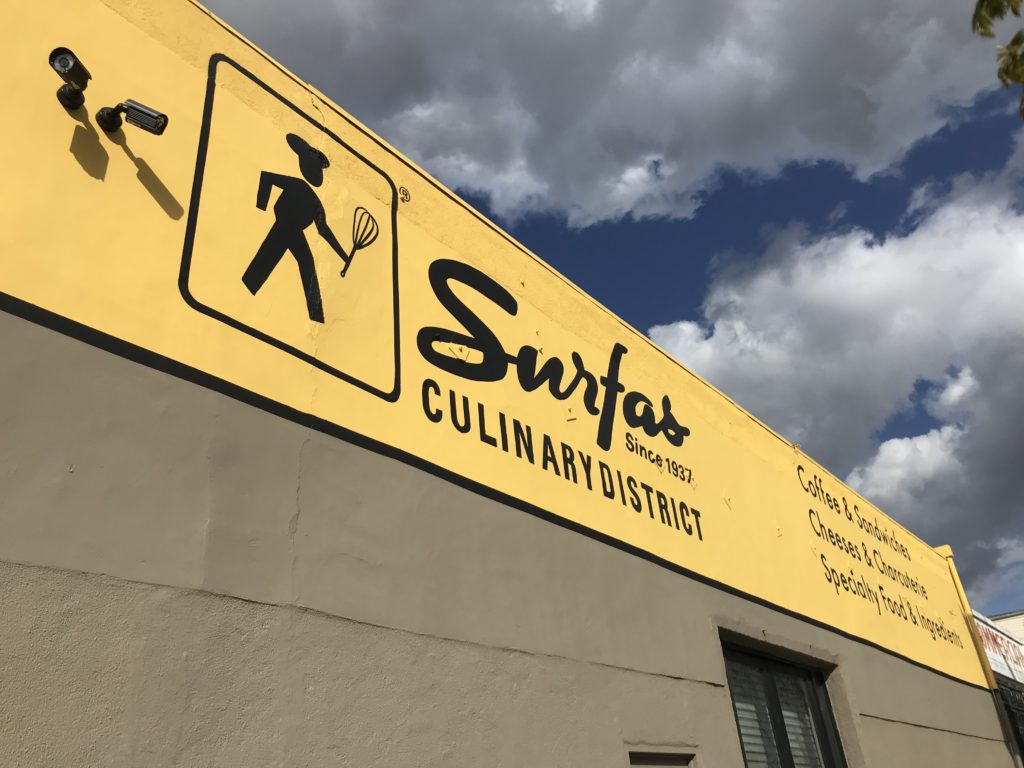 Need a specific ingredient for a new recipe? Check Surfas. Want a cheese plate for an upcoming get-together? Go to Surfas. Interested in a fun cooking class for you and your friends? Yep, head to Surfas.
Now celebrating almost two years in its current location, we wanted to get to know the team behind this local gem, dig into the history of Surfas, and shed light on what many neighbors are missing.
Meet Vanessa and Frank Casares, the husband-and-wife team running day-to-day operations at Surfas.
Mid City Big Life: How would you describe Surfas? Why do our readers need to check it out?
Frank: I'd describe it as a chef's paradise. You can discover everything from hard-to-find ingredients, spices and olive oils, a great cup of coffee, lunch and all kinds of culinary tools and equipment. It's also great for a date night. Come in for a pizza-making class, you know?

Vanessa: I love the environment here. As soon as you walk in, you're greeted by a staff member trained in the culinary world. There are bakers and cooks. If there's any question, we're sure it will be answered. Although, maybe not by me. I joke that someone will ask me, 'Oh, how do you use this utensil or ingredient.' I say, 'Well, I'm not much of a baker or cook, but I like to eat, so let me get someone to help you.'

Frank: We're all foodies. We all cook, or at least we try!
Vanessa: It's fun because a lot of people don't know what they're walking in to. They're like, 'Wait a minute, you have a café in your store? And I can shop for cooking stuff? And I can do a test kitchen class, or I can find what I need to open up a restaurant?' Yes, yes, yes, we can do all of that!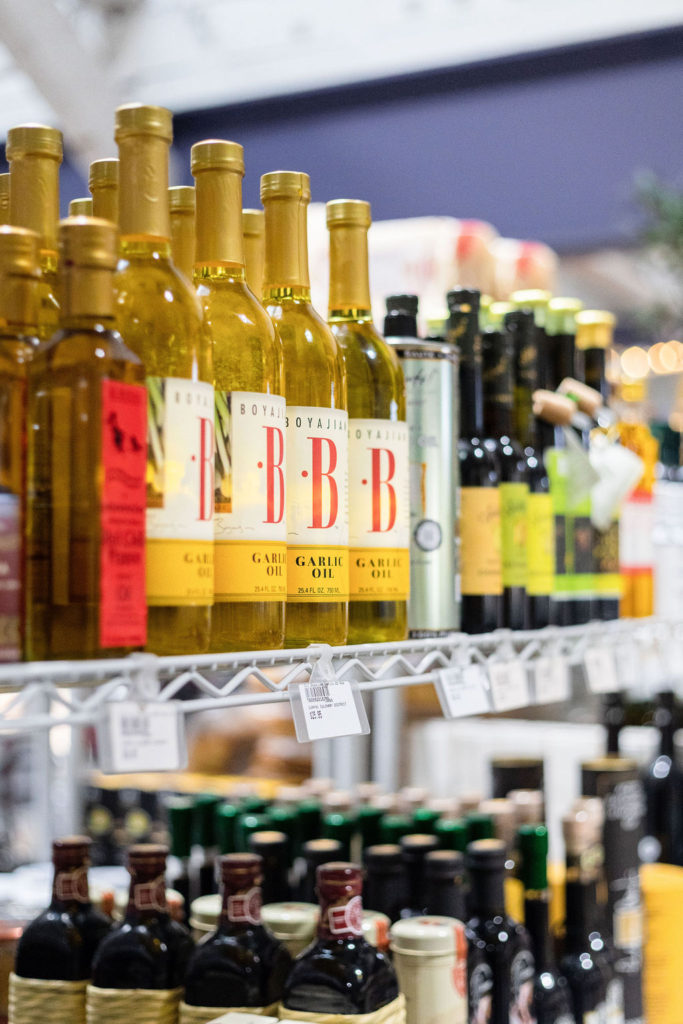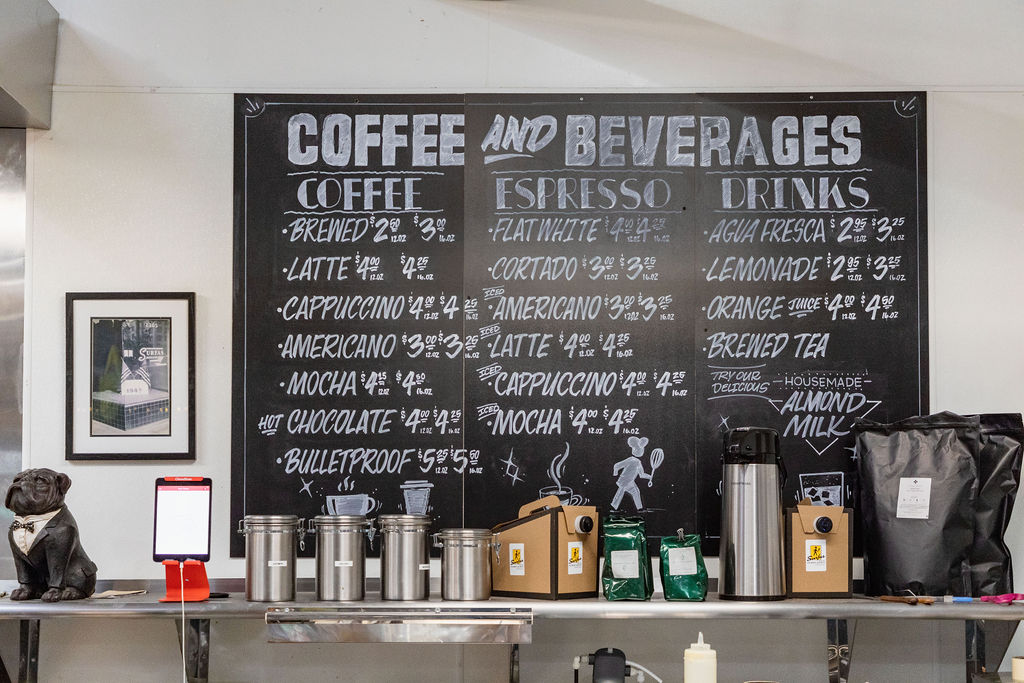 MCBL: You help people open restaurants? We had no idea!
Vanessa: Yes, Frank's department helps design kitchens and ultimately open restaurants. We can help you navigate the health department, get plans and permits and put together your kitchen. He holds your hand through the process. Recently he was at a job site and noticed tile being installed. He told the architect it wouldn't pass inspection. They went ahead with it anyways. As soon as the health department saw the tile, they said, 'No!' That's what 20 years of experience gets you.
Frank: No one knows our main business is actually commercial kitchen design. Our number one clients are architects because many don't know how to cook. Our most recent major project is Verse in Toluca Lake. It's from Chef Paul Shoemaker, who was behind Providence and Bastide, Rob Ciancimino who did The Sayers Club and Manny Marroquin, who has won Grammys for sound mixing. We also did the Getty Center.
Vanessa: There's a long list of restaurants we've helped open including Pink's Hot Dogs, which is franchising, and Frida in Beverly Hills. There are great chefs who come in here all the time like Ray Garcia from Broken Spanish. Jet Tila is also a long-time friend of Surfas. We get our share of celebrities that come in, but we keep it very low key because it's really just about embracing food and being part of that food community.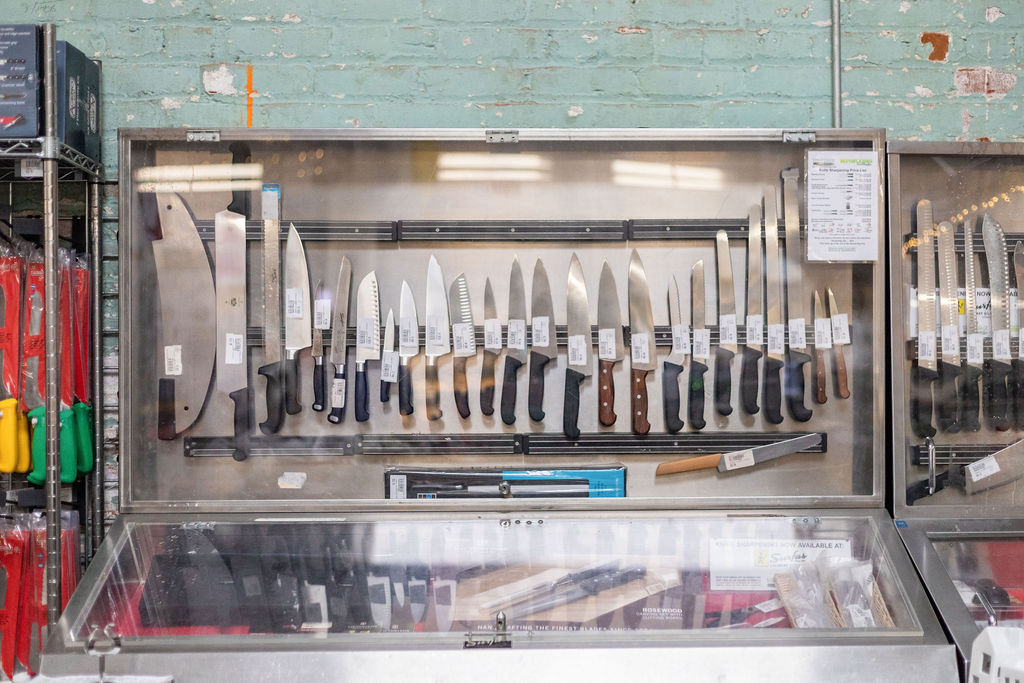 MCBL: Give us the history of Surfas. How long has it been around?
Frank: Surfas was started in 1937 by Gerry Surfas who had a fleet of 50 refrigeration trucks servicing all of LA county. In the '70s and '80s, Gerry's son, Les, took the business to the next level by introducing commercial kitchen design. They started building restaurants and moved away from the service industry. At the time, Surfas was actually at Jefferson and Crenshaw, so it has roots in this community. It was in a brick building near the fish place at the corner. From there, they moved to Jefferson and Overland and finally to National and Washington in Culver City, which was our most recent location.
In 1994, the Northridge earthquake destroyed part of the freeway, including the overpass at Washington and Fairfax. This destroyed the building that housed Van Rex, a gourmet food company, mostly selling kosher chickens. They also had a retail section for gourmet food. In the '90s, gourmet food wasn't what it is now, so they were catering to high-end hotels and restaurants. Not like now when everybody is into gourmet food! Surfas invited Van Rex to move into the Surfas building and share the space, which evolved the business to include gourmet food and restaurant equipment. This is when I started working at Van Rex, washing their kosher trucks on the weekend. I was only 14. When I was 18, Les Surfas hired me as his dad Gerry's assistant. My job was to be a sponge and absorb all of Gerry's industry knowledge. Between Gerry and Les' wife, Diane, I became immersed in food and learned the business.

MCBL: Are the Surfas still involved in the business?
Frank: Les and Diane are still involved in the business, but they've started their retirement. They have given us a great opportunity to partner up and continue the Surfas legacy for the next 80 years. With Surfas being a family business, I am going to keep it going along with my wife and my son, Frank. We thank the Surfas family for the trust.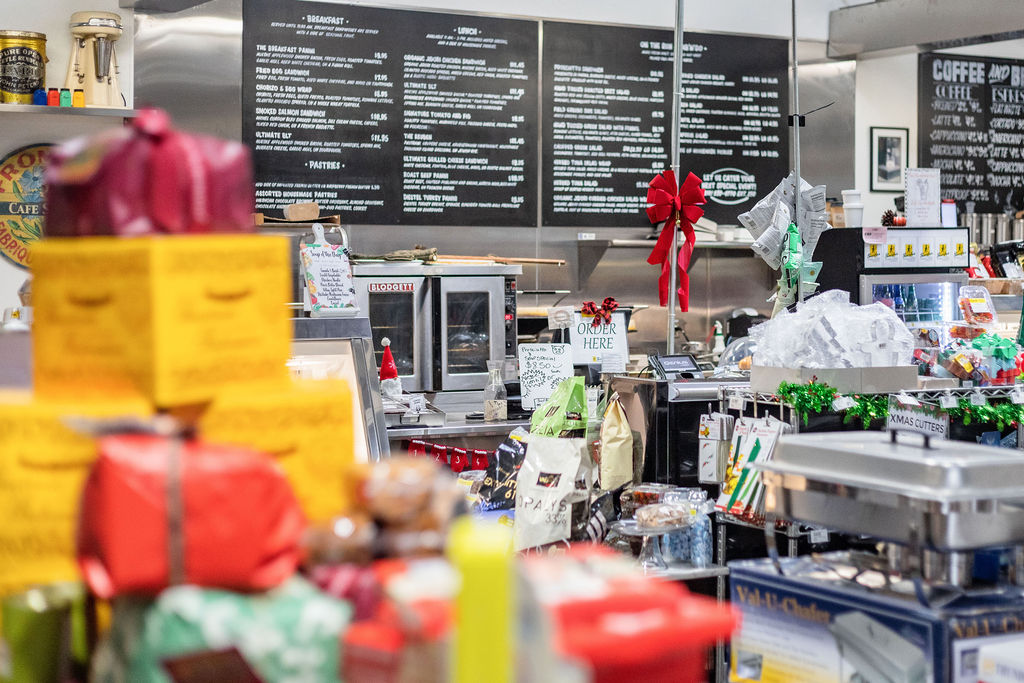 MCBL: Why the move to this area of LA?
Vanessa: When we were on National in a prior location, Culver City used eminent domain to claim the land and building, so we moved to Washington and National for 12 years. Then, we heard eminent domain was going to be used again, so the building owners sold to developers. The space was going to be used by HBO and then Apple. We had to get out, so we had a huge sale. Unfortunately, we didn't have a new location, and it took almost a year to find this place, an old restaurant equipment store. Frank jokes this is where equipment came to die. There was so much history. The walls had equipment stashed in them. Even the parking lot was filled with equipment. We'd open the gate, someone would back up, remove equipment, and repeat. There was no parking!
Once the equipment was removed, we noticed these beautiful walls. We kept as much of the charm as we could. We set up, and we opened our doors. It's funny when you're gone for so long people tend to forget you, even though we said we're not closing our doors, we're just finding a new location, but every day, even after this long, people walk in and say, 'I didn't know you were open,' or 'How long have you been open?' We've been here almost two years now! Come see us!

Frank: We love our new home. It feels like more of a community here, and everybody appreciates us being here. It took a little convincing to get the Surfas family to come here because we thought our clientele was mostly on the west side. But now, 90 percent of our customers say we're closer to home, which was very surprising. This whole area is changing. I grew up in West Adams. I think it's interesting because we now cater to people who live in these neighborhoods, the neighborhood we started in before we moved to Culver City. We're back, so it's a bit of a homecoming story, which I love. From what I can tell, everyone is embracing us. People love to come here to shop, or just grab a bite, which is what we want.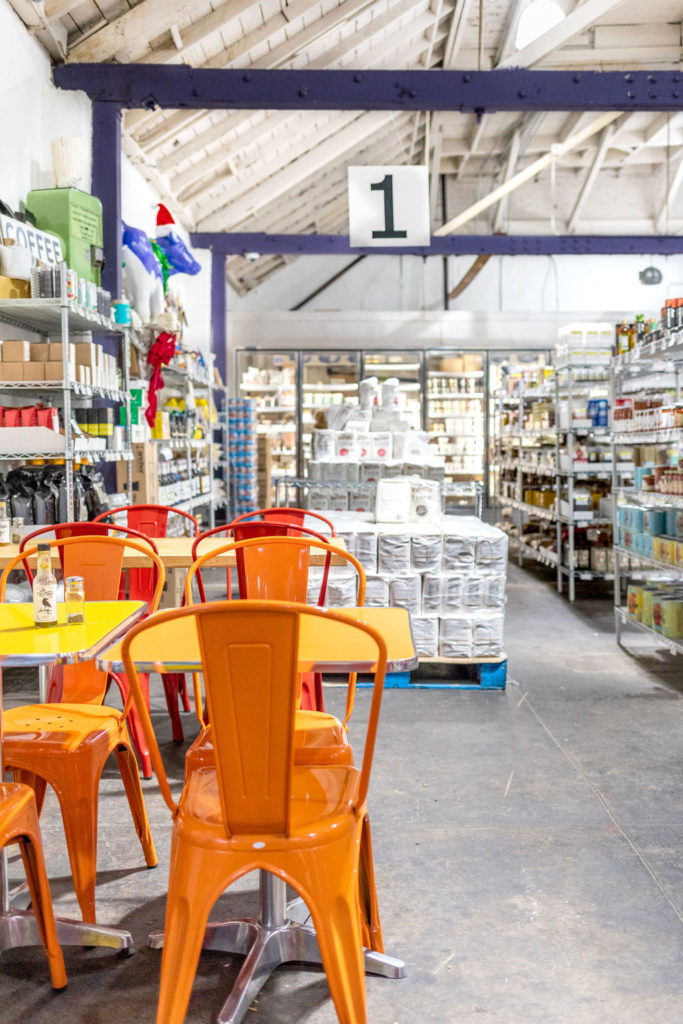 MCBL: What can people buy at Surfas?
Vanessa: We have so many ingredients and tools for cooking and baking—from the very basic to hard-to-find items. We have whisks. We have containers for hot liquids or cold items that are used in commercial kitchens, but also very useful at home.
Frank: We have White Lily flour that's easy to find on the east coast and in the south, but it's a mission to find it on the west coast. The White Lily Company does not sell west of the Mississippi, so we order in Arkansas and then ship it here. We're the only place in town that has it. It's very silky. Right now, that's the number one thing people are coming here for.

We have great chocolate. Valrhona from France and Callebaut from Belgium. We also carry Nielsen Massey vanilla. When we were in Culver City, people would say we were very expensive. Now that we're not paying Culver City rent, our prices are almost 25 to 35 percent cheaper than before. Believe it or not, the Nielsen Massey vanilla is cheaper than Amazon. That's a pretty big accomplishment for a small mom-and-pop organization.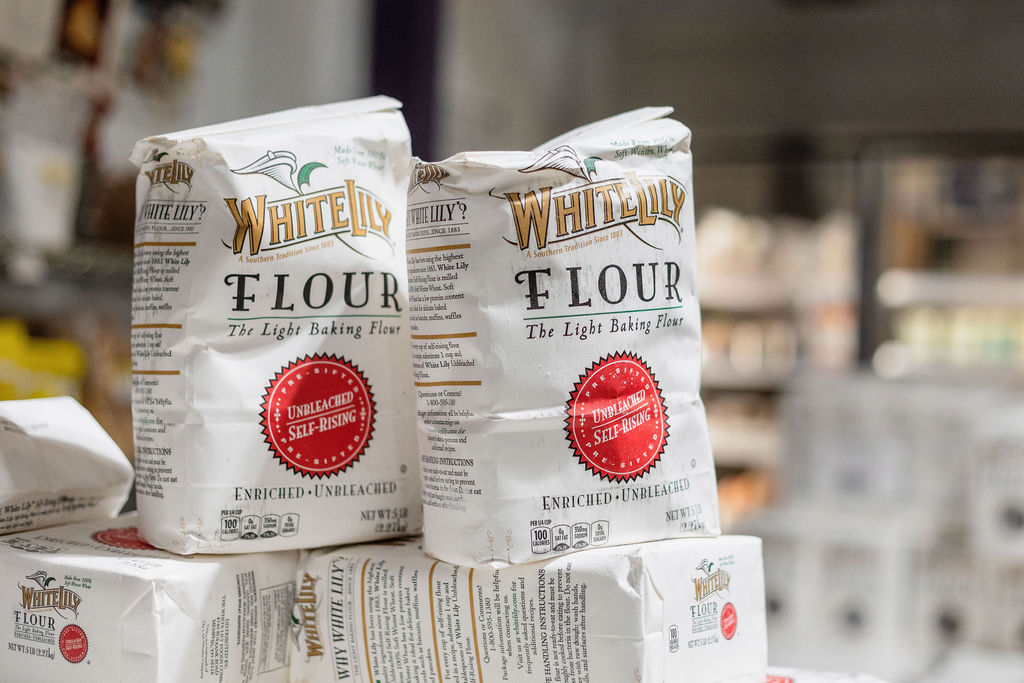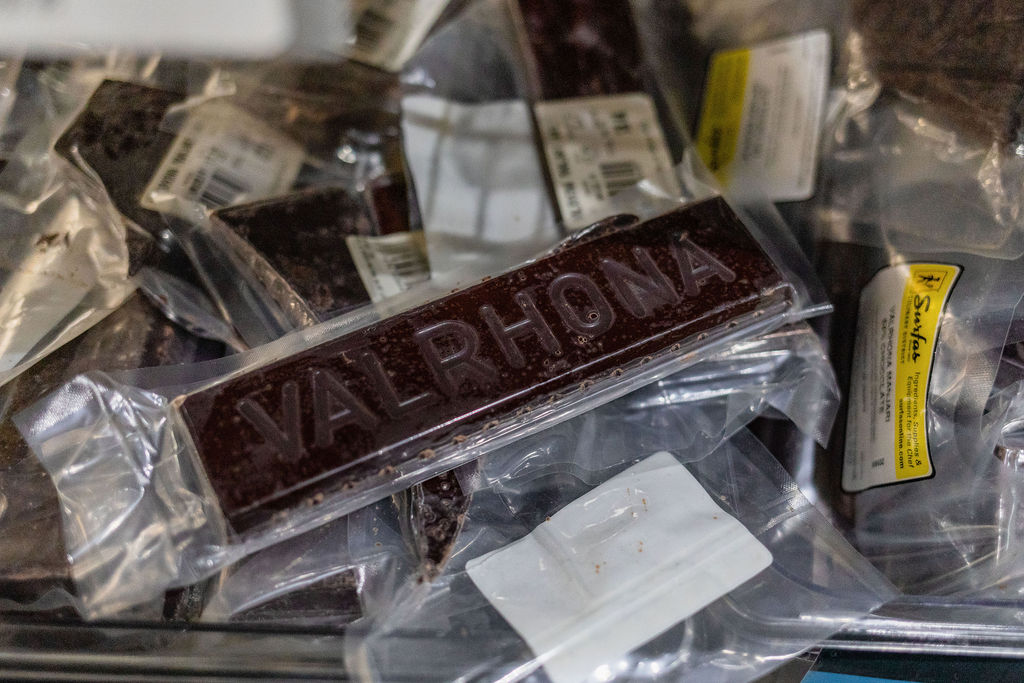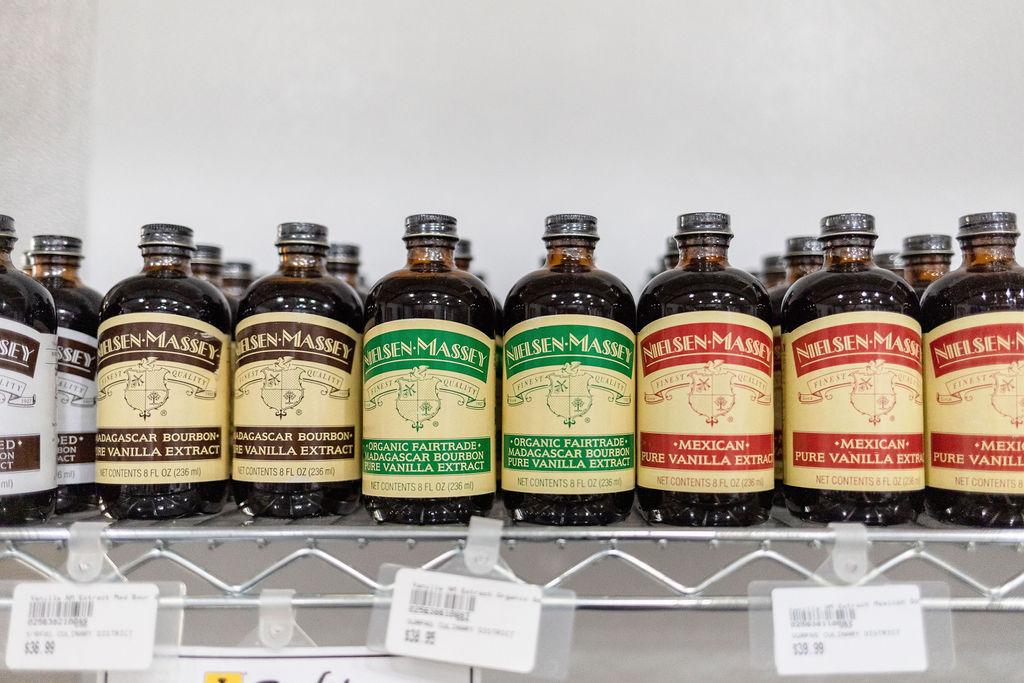 MCBL: And you have a cheese lady!
Vanessa: Yes! Rebecca is our cheese monger. She puts together amazing cheese and meat plates, or can recommend cheese to pair with food and drinks. We had a wonderful event with her last year, and we'll hopefully have another one before Valentine's Day.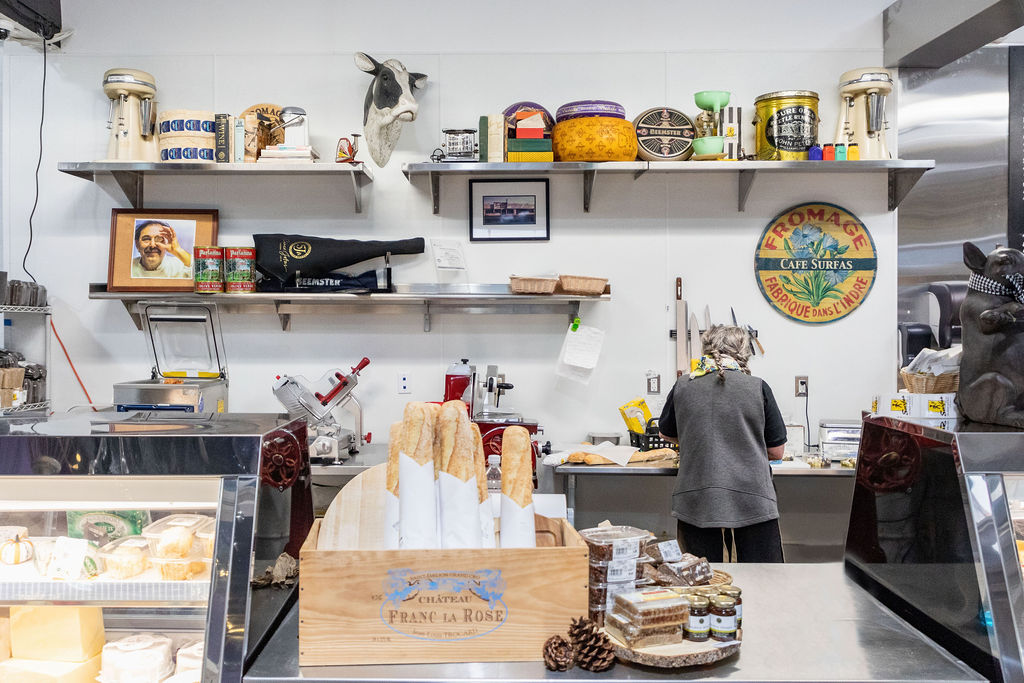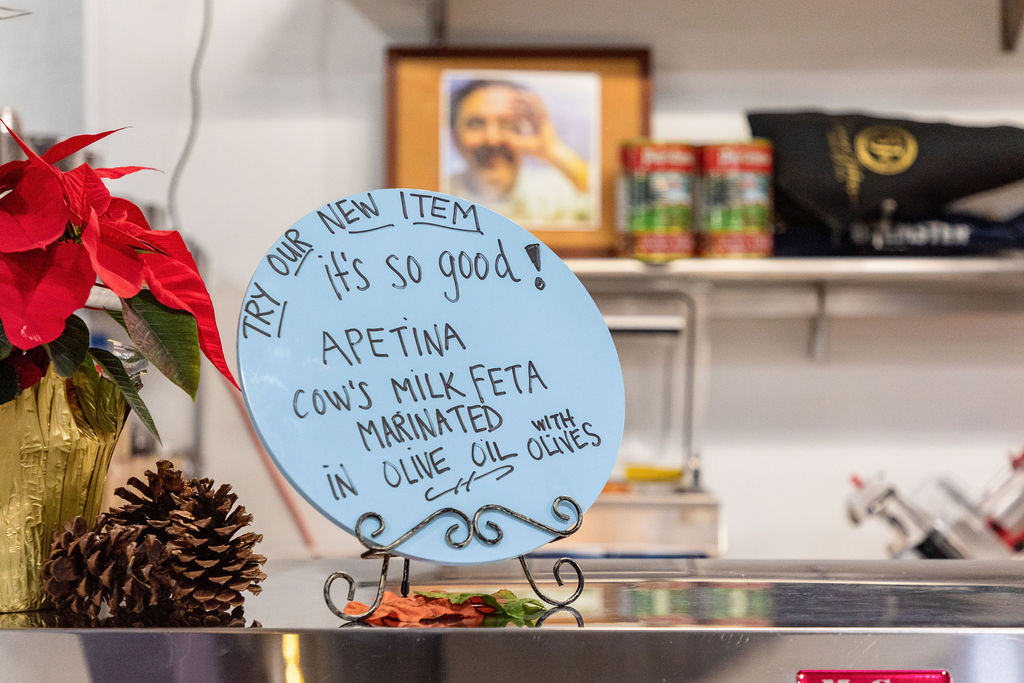 MCBL: What else should we know about Surfas?
Vanessa: We have a test kitchen with events for the community. I put together the classes and help out wherever needed. The test kitchen started because chefs needed a place to test different products. It evolved into classes and private events, but it was mostly a place for our vendors to bring new products and have our chefs try it. At our previous location we had wine and beer, so they'd paired wine with the different recipes. Hopefully we'll get wine and beer here!
MCBL: When are test kitchen events?
We try to have an event every weekend. We also try to do the classes during the week, but we find that people are more interested in Saturdays, so it varies. We work with different chefs. We've had tamale, pozole, quiche and pretzel classes. We have bread classes that are very popular. Our most attended class is pizza with Noel Brohner, who is this amazing pizza guru, who consults for different restaurants, teaching chefs how to make the right dough for their menu. For the upcoming schedule, check out the web site here.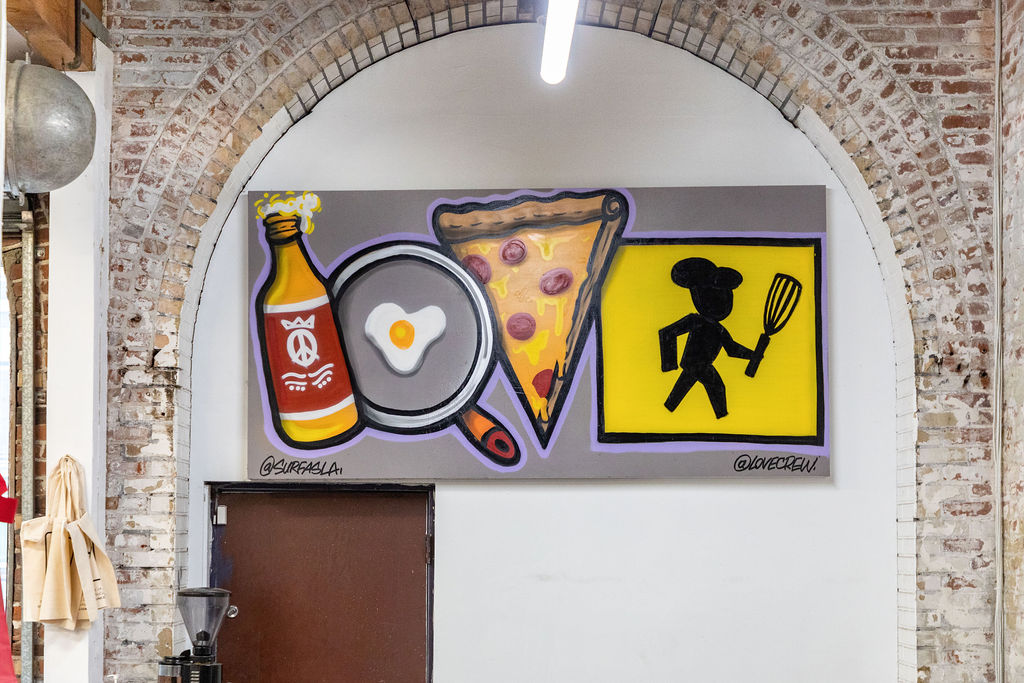 MCBL: What's the most popular thing to order at the café? Frank: That's a big debate, but I think the most popular thing is the tomato and fig panini. People should try the ultimate BLT and our turkey sandwich is also very, very popular right now. For the full menu, click here.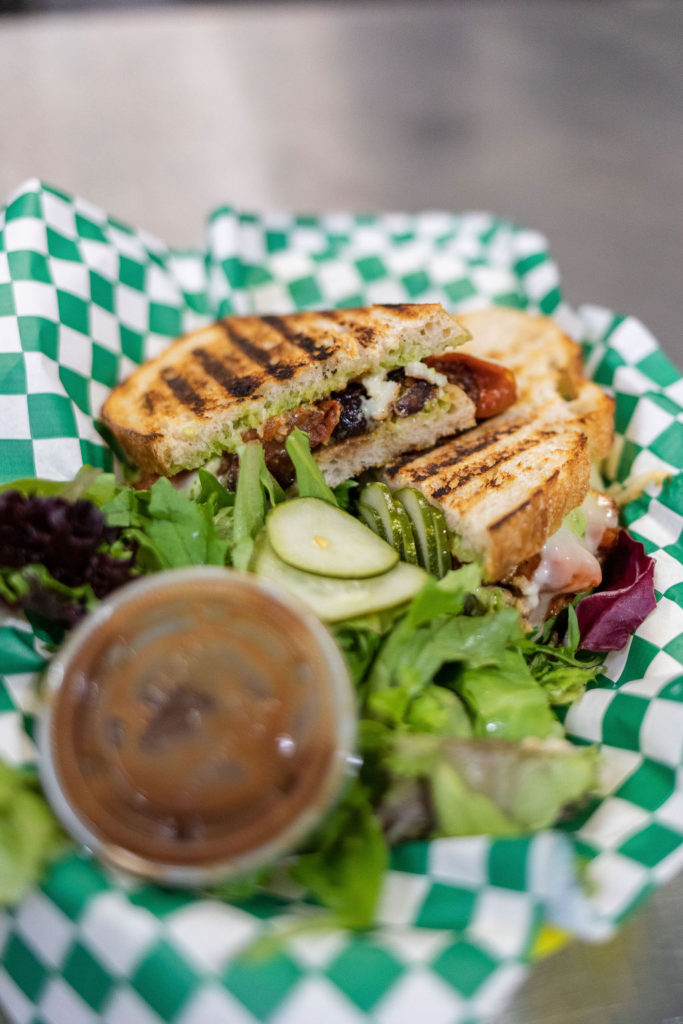 MCBL: What else can you tell us about Surfas?
Frank: We recently re-launched our website (www.surfasonline.com), so we've been running a lot of sales and promotions. We have about 600 unique food items for sale there. They're great for gifts or for yourself.
We also want people to come in and check us out! We're just really hoping to stay in the area for a while. People still think we just opened! You enter the parking lot on Third Avenue!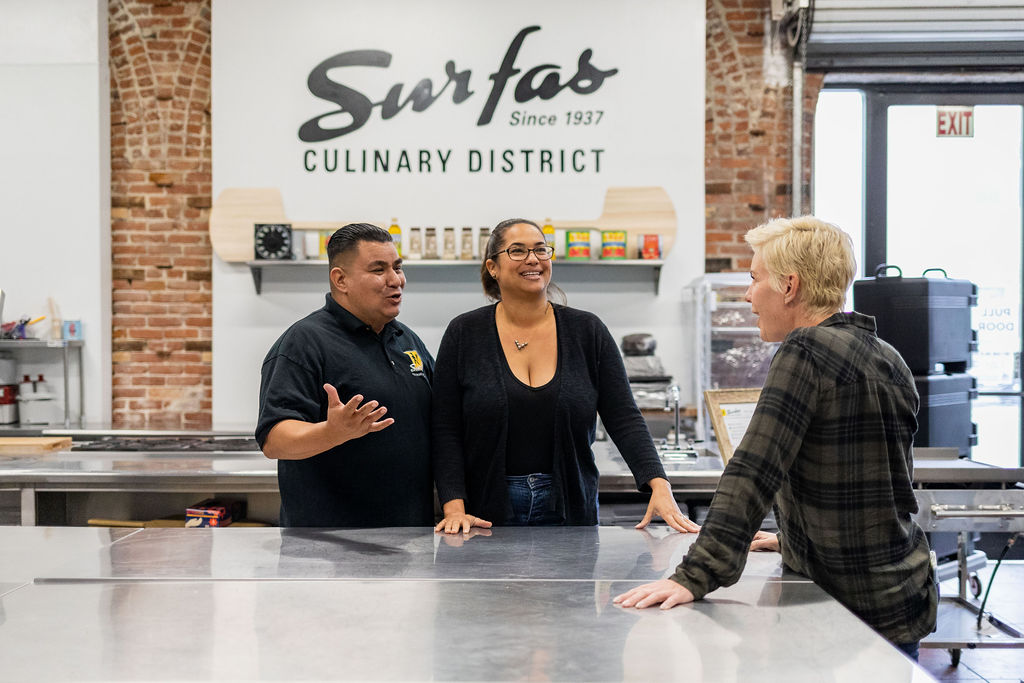 More from Frank and Vanessa Casares…
MCBL: You said you're from LA, right?
Frank: Yes! I grew up off of 25th Street and Congress, a block west of Normandie in West Adams. Now I live in Windsor Hills.

MCBL: What do you love about LA?
Frank: The number one thing I say to people is that if you live in LA, you cannot say that you're bored. There is always something to do and whatever you feel like eating, whatever ethnicity food you feel like eating, you can find it. And of course, the weather.

MCBL: What do you love about this area specifically?
Frank: Everybody here is still down to earth, you know? Everybody here still knows that the other person on the other side of the counter is still a human being.

MCBL: Do you have neighborhood favorites?
Frank: The place we keep going to during the summertime is Mateo's Ice Cream. We bring stuff for all the employees. Then there is a guy who bought some equipment from us named Isa. Very interesting guy. He opened Nobu Ramen right here next to Auto Zone on Western and Washington. When you go in there and you sit down, he gives you Japanese fried chicken with a little drizzle of something. It's so delicious. It's really good.
MCBL: Vanessa, you're also from LA, right? Vanessa: Yes. I was born in LA. We moved to Miami when I was seven or eight, and then we moved to France. My father is from Paris and my mom is from Haiti. But this is my mother's second French husband. After France, spent about 10 years in Tahiti where I went to middle school and high school. After Tahiti, we went to China then back to France and then to Bangkok. After that I was done. I've always came back to LA because of my father, so when I was over living in Asia, I would think about my happy place and decided LA was my happy place. I moved back to LA and have been here 12 years now.

MCBL: What do you love about this area?
Vanessa: It has this very nice vibe, feels very homey and it's easy to access. I love to just to wander around and to do things. We find some interesting little surprises. I love La Cevicheria. It's a small, family-owned-and-run restaurant with amazing food.
I also love the museums and art galleries. I just went to The Underground Museum and thought it was so charming. It took me forever to go in! It is pretty cool.
When I need a change from our café, I really like Alibi. I go over there and have their coffee and a cinnamon roll I adore. They always have a cute barista too!
Surfas Culinary District. www.surfasonline.com 3225 W Washington Blvd. LA, CA 90018. Open Monday through Saturday 8am-5pm. Closed Sundays. Phone: 310.559.4770 Facebook: @SurfasOnline Instagram: @SurfasLA
TO VIEW HOMES FOR SALE NEAR SURFAS CULINARY DISTRICT IN THE 90018 ZIP CODE, CLICK HERE.
THIS STORY COURTESY OF TOM LIND REAL ESTATE.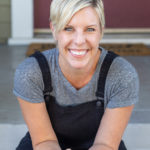 Karlyn Nelson, Tom Lind Real Estate
323.241.9786, KarlynNelson7@gmail.com
LIC# 02051690