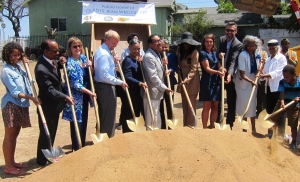 Mid City is definitely a great place to work and live. But now it's a great place to play as well. Named after Council President Herb Wesson's late mother, Gladys Wesson Park will have its grand opening on December 11. Construction began on June 6, 2014 with an extremely touching groundbreaking when General Manager of the Los Angeles City Department of Recreation and Parks, Mike Shull, surprised Mr. Wesson with the news that the park was to be named after his mom. You can see a news clip of the ceremony by clicking here.
The park is located on West Blvd. between the 10 freeway overpass and Adams Blvd. Best of all, the Mid City community and particularly the West Adams Neighborhood Council played a major role in the overall design of the park. Be sure to stop by to enjoy the children's play area, picnic space and fitness equipment.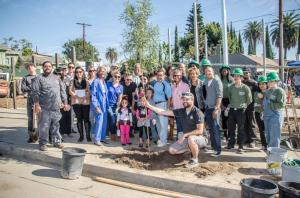 But don't think this is the only park Herb Wesson and Council District 10 has in store for us. District Office Director, Sylvia Lacy was kind enough to fill me in about West Adams Heights Park that opened last Saturday. This park even includes a "free book" library with a front porch to sit and enjoy your favorite book. (Located at Cardova and Normandie)
And starting in 2015, CD10 will be working along side Wilshire LAPD to develop a park in the Mascot Triangle at Mascot and Pickford. It's currently in early stages, with neighborhood outreach to begin in January. Stay tuned!