When it's time to get your fitness on, I know just where to turn. My friend Frank Zito has been teaching pilates for years now, both at his studio in West Hollywood and out of his home right here in Mid City. In fact, he's so enthralled with pilates, he developed a Pilates Certification Program for new instructors. www.pilatescertificationla.com
Take a peek below to read what our neighbor Frank has to say.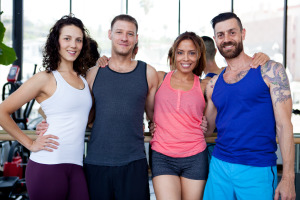 How long have you lived in Mid City?
4 years in July.
What do you like most about living in Mid City?
I like that the housing is affordable and that the neighborhood is centrally situated within the LA basin.  I can get to work within 15 minutes, downtown within 15 minutes, Culver City in 5 minutes, the beach within 15 minutes. And if I take my bike instead of my car, I would only add another 5 minutes to any of those commutes.
What is your favorite healthy Mid City restaurant? How about on your cheat days?
Bloom on Pico is my favorite.  Hollywood Pies is a new discovery and it is amazing!
What pushed you to pursue a career in fitness/pilates?
I was always athletic and into fitness.  Pilates was great because it helped fix some imbalances within my body.  I grew to love it so much that I became certified.  And that passion continued to grow to the point that I have my own Pilates Certification Program.  Checkout www.pilatescertificationla.com for more information.  I've had other careers (accountant, banker, chef, massage therapist), but teaching Pilates to clients and students has been the most rewarding.
Any awards, recognitions, etc. you'd like people to know about?
In February 2015, I will be a presenter/instructor at a classical Pilates convention in San Diego.  They have selected 5 of the top male instructors from around the world.  It's an honor to be included.  And it's a unique event.  Most people assume that Pilates is for women.  It's true that Pilates has gotten popular with women.  But Joseph Pilates was a man who invented his method to keep other men in shape.  He originally trained boxers and acrobats.  Men are beginning to discover that Pilates is something that will not only get them in shape, but it also is a method that they will be able to do for the rest of their lives.  I doubt you will be able to say the same for Crossfit, Zumba, Spinning or any other fitness fad.  (no offense to any of those practitioners).
What is one simple fitness rule everyone should follow?
Move your body every day.  Pick an activity that you enjoy and SWEAT.
What should a pilates virgin expect when working out with you?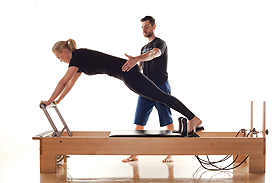 Pilates is adaptable for everyone.  It can be scaled-down to suit injured people, pregnant women, unconditioned individuals and even people with zero coordination.  Keeping that in mind, once a person becomes adept at the basics, I will raise the bar a little at each session to be sure that every person is being challenged.  Even elite athletes use Pilates as a training tool.  You should see some of the tricks that I can do at 50 years of age!  
What is your company website/contact information?
Because I run a training program, I can refer interested people to my current apprentices, my graduates and my colleagues at my studio in West Hollywood.  I also teach at home in good ole Mid City.  Contact me on facebook:  https://www.facebook.com/frankzito?fref=ts
http://www.pilatescertificationla.com/