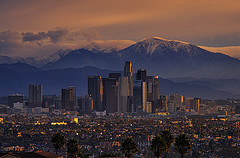 Looking for a fun-filled way to spend a weekend? Look no further than Kenneth Hahn State Park. Smack dab in the middle of Baldwin Hills, this park offers something for everyone.
Start the morning off right with a sunrise hike. You will find stunning views of the Hollywood sign, Downtown LA, the Los Angeles Harbor, Pacific Ocean and Santa Ana, Santa Monica and San Gabriel Mountains. Plus, dogs are always welcome.
Need a more strenuous workout? Kenneth Hahn has you covered with a 10-station workout course, sure to get your heart pumping.
After a workout it's time to have something to eat. The park features 100 picnic table and several grill areas for rent as well as a fishing pond stocked monthly with trout or catfish, depending on the season.
When it's time to relax, take a stroll by the Japanese Garden filled with koi fish, or watch the kids have a blast on one of 4 playgrounds the park offers. You may even catch a glimpse of a grey fox or a desert cottontail rabbit. These are just some of the animals that call Kenneth Hahn home. In fact, the local Audubon Society chapter offers monthly birdwatching walks in hopes to spot some of the 41 species of birds in the park. Click here for more info.
Open from sunrise to sunset, Kenneth Hahn is definitely a place that everyone will enjoy.
For more info about Kenneth Hahn, click here.